If you find it hard to stick to a schedule and remember important dates and meetings, then a calendar app/plugin might be just what you need.
It will help you plan your day and improve your productivity level, saving you a lot of money – as the old saying goes, 'time is money.'
A calendar tool will help you schedule meetings, tasks, events, and customer calls in advance. You can organize your day based on priorities and get more work done in less time. A calendar app/plugin  has a lot of benefits, and that's why many businesses use one. But a few don't use calendar plugins daily as they find them hard to use. Lack of functionalities, complex UI can be the reasons for it. 
There are various calendar plugins available in the market: Google Calendar, Dynamics 365 Calendar, Thunderbird Lightning, TimeTree, Timepage, etc. The important question is – which one is best suited for your business needs?
In this article, we will learn what makes a great calendar app and go through the three best calendar options that you can use to make your and your team's life more organized in 2021.
What Makes a Good Calendar App/Plugin?
Calendar apps and planners are present all over – some tailored to an ultra-specific niche like sketch boards while others cater to specific requirements. Almost all of them have common features – scheduling appointments and reminding users of the same. 
But still, they are not the same. 
To get into the list of best calendar apps, they need to have the following things:
User interface: It should be easy to use and shouldn't require many clicks and an extensive menu list for navigation. The user interface should be intuitive, i.e., buttons should be clear, the user flow should be obvious, and easy to move through.
Feature-rich: Choose the tool that offers a great number of functionalities. For that, decide what features are essential for you and what will help you manage your schedule. The standard features that it should have include reminders, sharing, and allowing other people to access your schedule.
Synchronization: Whether you're using it with another calendar plugin, CRM, or another tool, it should automatically sync all the information across all platforms and enhance user experience, just like Dynamics 365 Calendar.
Value for money: It shouldn't burden your pocket. The calendar tool should be customizable and available on multiple devices. If you integrate a tool with an extensive list of features but abandon it because the features are of no use, it won't serve you any benefit.
With that in mind, let's go through our list of shared calendar apps.
Three Best Options
It can be challenging to manage all business operations along with the moving parts from one place. Having a place to write down all important events and tasks with reminders and alerts can help increase the mental bandwidth for creative ideas. A calendar is the best option, whether to manage your schedule, improve the team's productivity, or build transparency. Here are some of the best calendar plugins to choose from:
Google Calendar
Use it for these project management needs: Scheduling meetings and important milestones. 
It's the default official calendar for Android and one of the most popular due to its G-suite integration. It also works with iOS, and this cross-app platform functionality lets you create multiple calendars and port them to any other calendar you use. 
Google Calendar allows easy calendar availability sharing, making it an excellent choice for things like scheduling meetings, dropping important milestones (like project live-date) on everyone's calendar.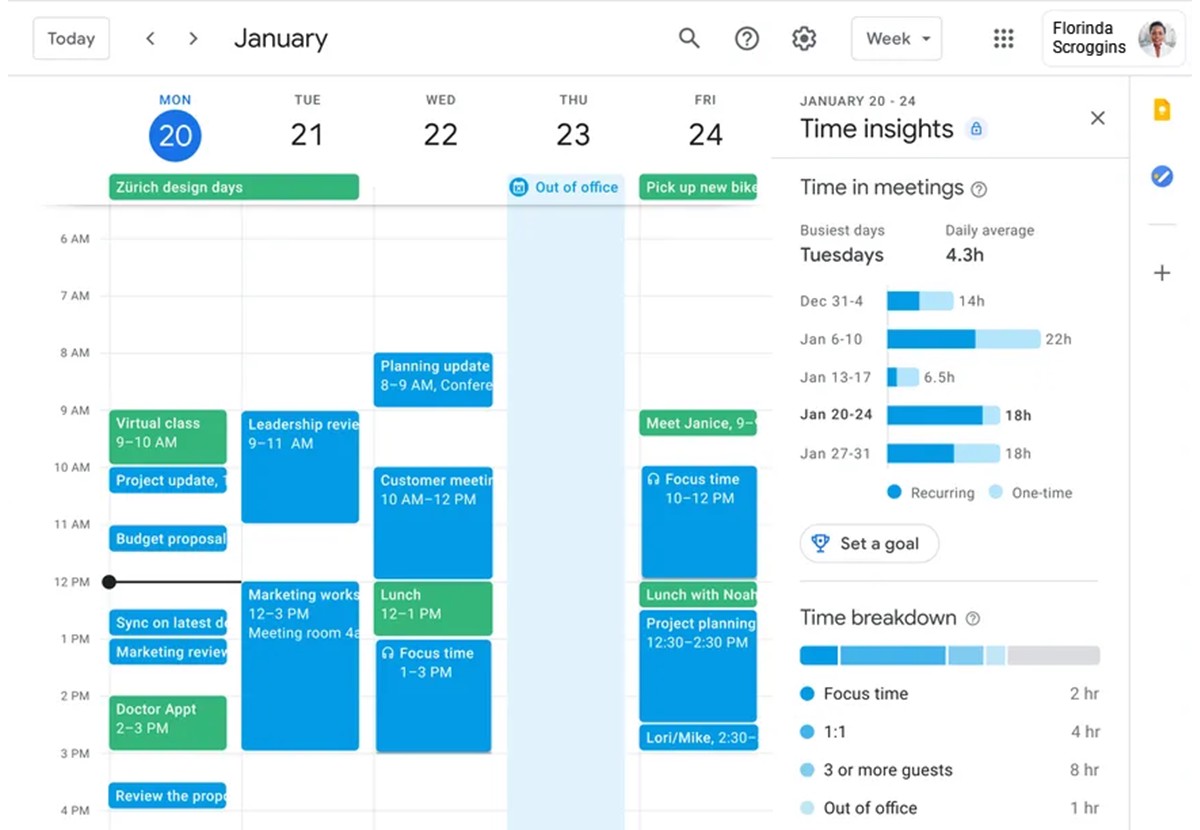 Source: The Verge
You can also send email invitations to group meetings and Google Meet, simplifying the collaboration. It also keeps data synced across time zones and integrates with other productivity tools like Trello and Asana.
It also has customization of event notifications, color-coding of multiple calendars, and more. With the latest roll-out, you can view how much time is spent in meetings. However, it's not a project/task management tool and doesn't offer an easy way to keep project details, attachments, and other essential information in the calendar. It means you need to use it with another project management tool.
Outlook Calendar
Use it for these project management needs: schedule appointments and manage tasks.
Source: The Verge
Microsoft Outlook Calendar is another widely used tool by Outlook users. It allows users to create tasks and appointments, group schedules, and organize meetings from one place. Outlook works as a personal task manager that allows you to share your calendar with anyone in the team or subscribe to one another's schedules for real-time updates. You can view multiple calendars in multiple ways.
Outlook Calendar is good for Android and iOS versions. However, the Mac version is not that handy. If you're a Windows person and work more on desktop apps, Outlook is a good option.
The free version comes up with basic features like drag and drop to schedule meetings. To get additional features, you can subscribe to the pro version. It sounds like a Google Calendar with better wrapping (a few more basic features).
Dynamics 365 Calendar
Use it for these project management needs: appointment scheduling, resource management, and overseeing the entire project includes team schedules, tasks, deadlines, dependencies, and more.
Dynamics 365 Calendar addresses many of the pain points that Google and Outlook calendar fail to do.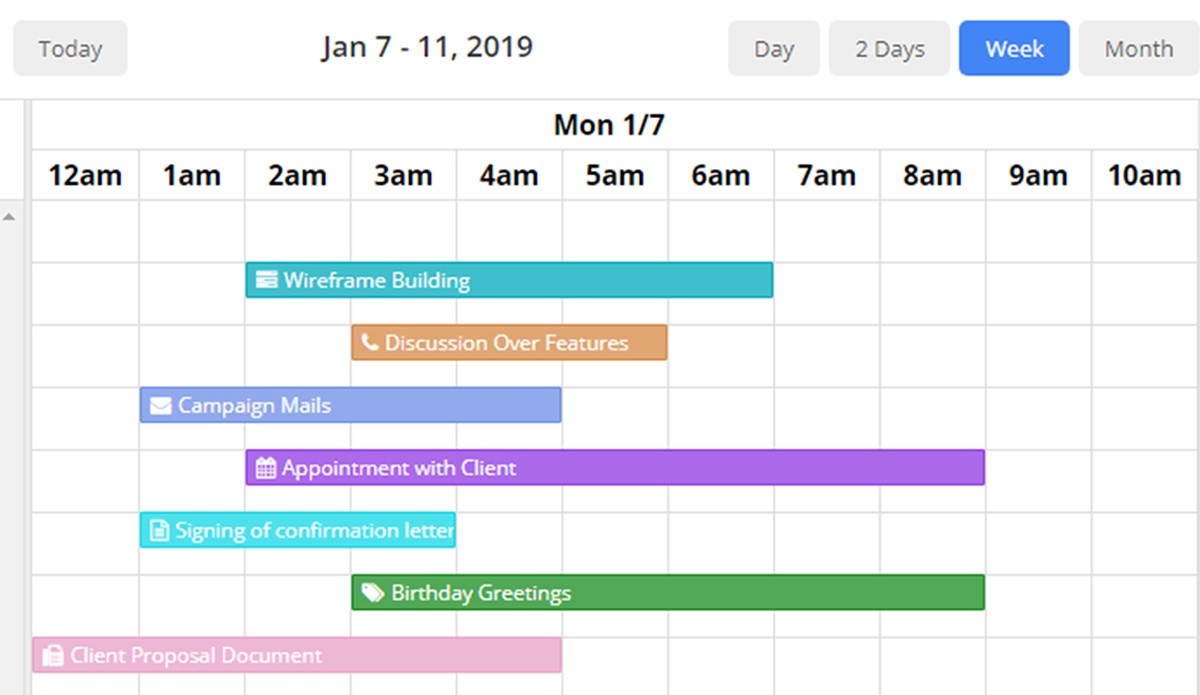 For starters, it may be overwhelming to know what a specific team is working on. Calendar 365 allows you to create multiple calendars based on projects, individuals, teams, etc. You can color-code the calendars and even tasks and activities in them. It's easy to figure out the dates and deadlines for a specific project. 
A Dynamics Calendar is not just about scheduling important dates and meetings. It's connected to the Dynamics CRM, which means you get a bigger picture directly on the calendar. You can plan meetings based on everyone's schedule, assign tasks, view your team's work, accept/reject leaves, and even manage work hours from the calendar. Here are the reasons to choose Dynamics 365 Calendar.
Attachments and reminders are the basic features of Calendar 365. To maintain transparency, it allows easy sharing of calendars across internal teams. The only drawback is that you need to pay a few bucks. However, the tool is worth the money! 
The Most Suitable Option
Dynamics 365 Calendar! Even if you compare it with others available in the market, such as Apple Calendar, HubSpot Meetings, Thunderbird Lightning, Business Calendar, Timepage, and more, the answer would be Calendar 365.
It streamlines the entire process, and has benefits like auto-syncing capabilities, and offers all the project management features. Here's more to the Dynamics 365 Calendar.

All product and company names are trademarks™, registered® or copyright© trademarks of their respective holders. Use of them does not imply any affiliation with or endorsement by them.