Appointments are a medium for businesses to work smoothly. An online appointment tool can actually help you uplift your business by providing a smooth customer experience.
Microsoft Bookings can help you with that!
It is one of the most talked about appointment scheduling tools. So let's find out what the buzz is all about!
Microsoft Bookings – Gist of it
MS Bookings is an online appointment scheduling software for MS 365 users. The software targets small businesses to help them simplify the appointment booking process.
The software comes with unique appointment booking web pages, which would allow customers to select their preferred service, date & time of the appointment, and the staff member, if specific.
Talking about what happens in the backend, the admin can set staff availability, set working hours, buffer time, types of services, and much more.
MS Bookings gives customization at almost every step to make it compatible with your specific requirements.
Let's learn more about who can use MS Bookings, why they use it, and how to make the most out of it!
Who can use MS Bookings?
MS Bookings is not a standalone application. So, if you want to use it, you need a Microsoft 365 subscription. MS Bookings is a part of the MS 365 bundle. You don't have to pay extra to use it.
But if you don't have an MS 365 subscription, you have to subscribe to at least one of the MS 365 plans in order to use MS Bookings.
Why are businesses using MS Bookings?
MS Bookings simplifies the appointment booking process for both customers and businesses. Customers can book an appointment from a unique appointment scheduling page and request the desired service. They can also choose the date and time of the appointment and the type of service.
Once the booking is confirmed, an email is automatically sent to the customers. You can also set a reminder email that is sent just before the meeting.
There is an option to cancel or reschedule the appointment. It is optional whether you want this functionality for your customers or not. If you enable it, customers can modify the appointment time within the given time frame. Thus, you can make more efficient use of your time, as the canceled slot will now be available for other customers.
Whenever a new customer adds an appointment, MS Bookings automatically adds the customer's contact details to the customer list.
Features that make you choose MS Bookings
We know that MS Bookings lets you customize the whole appointment scheduling page from the backend. There are some features that make it worth the investment:
Define roles for your staff members and give customers an option to choose the staff members based on their requirements. For example, you are using MS Bookings for your salon business. Now, you have two staff members, one who does the haircut and the other one who does the hair coloring. You can add their names and their designation, so it becomes easier for customers to choose and for you to manage the schedules of your staff.
Staff can view the calendar of everyone but cannot edit it. They can edit their personal calendar only.
You can customize your scheduling page with your logo and brand colors.
The admin has a full calendar view of all staff member appointments.
Add contact information of new customers, so your client database is always updated.
The app is responsive to mobile devices.
Schedule appointments using MS Bookings
Let's have a brief of what you need to get started!
1. Enter Basic Business Details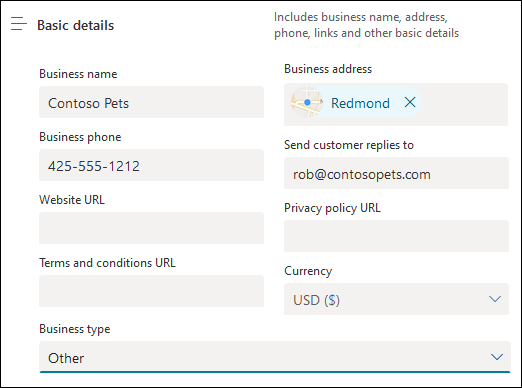 As you start creating a calendar, the first step is to enter your business information. The basic information like business name, business type, website, and contact details.
You will add an email address if you want to receive customer replies. Add your business logo and operational business hours. You can add different hour ranges for different days of the week and also show days off.
2. Add your services
MS Bookings allows you to add different types of services and their details to differentiate them easily later on.
Let's continue this explanation with our salon example. So if you have a salon business and you offer different services, you can add all those services and their details like service name, description, location, pricing, and the maximum number of customers you can service in a day.
You can keep buffer time between two appointments, so your staff has enough time to prepare for the next appointment.
Assign different services to your staff members, so it is easy to differentiate and utilize time.
3. Set default scheduling policy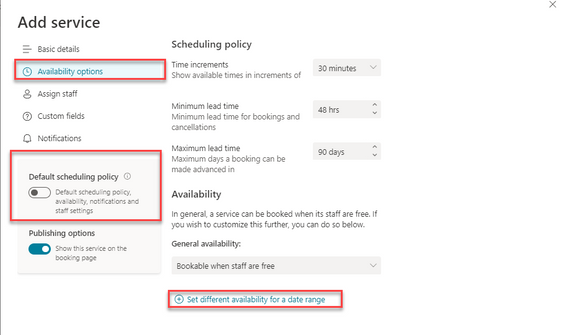 Schedule your availability to have control over the bookings happenings. For example, you can set upto when customers can cancel the appointment, the maximum days you want to take advance bookings for, and more.
Once all the details are in, it is time to publish the booking page. You can also share the meeting link with your customers so that they can easily book appointments in future.
How much does MS Bookings cost?
If you already have Microsoft 365 subscription, you don't have to pay extra bucks to use MS Bookings. It is part of the Microsoft 365 package.
But if you don't have Microsoft 365 subscription, then its basic plan starts at $6/month for one user.
Is there any better alternative?
The above discussion makes it obvious that you need a Microsoft 365 subscription to use MS Bookings. Other than that, MS Bookings is not fully customizable. There are limitations to it. For example, if you want to integrate appointment bookings with CRM, there is no direct way.
Calendar 365 – The Best Alternative to MS Bookings
Calendar 365 is an appointment scheduling Dynamics plugin specially designed for Dynamics 365 CRM users.
If you already use Dynamics 365 CRM, you don't have to worry about appointment scheduling, resource management, activity management, etc.
Moreover, as the plugins integrate with the CRM directly, you don't need to integrate using a third party tool.
The plugin has all the features that you would require for appointment scheduling. It is fully configurable, which is best for your business branding.
Calendar 365 is worth a try if you are a Dynamics 365 user.
We also have a blog on Calendar 365 vs. MS Bookings if you want more insights.
For more information about Calendar 365, contact us at [email protected] or click here to explore Calendar 365.

All product and company names are trademarks™, registered® or copyright© trademarks of their respective holders. Use of them does not imply any affiliation with or endorsement by them.