Do you know how much time your support representatives could save with a calendar integration?
Plenty!
So, if you know what, when and where your resources are working, you can certainly improve the quality of work by avoiding unnecessary tasks.
That is why you need a calendar that shows which resources are assigned to which case or vice versa.
With the help of Calendar 365, you will get visibility into the number of the cases that your agents are working on.
So you can accordingly assign a new case to an agent after looking into their schedule.
A resource calendar can give you visibility of resources, their availability, activities, and much more.
Dive in to explore how Calendar 365 can improve your customer service
One of the calendars that Calendar 365 offers is the Entity Calendar. It helps you visualize the cases and the resources associated with these cases.
The calendar comes with different filters, which lets you filter cases based on team or individual resources.
Moreover, you have different types of views like Top Down, Gantt, Timeline, and Agenda to better visualize the data. Each view can help businesses from different industries in different ways.
Top Down View:
Helps the agent and manager to visualize how their day looks
How many hours an agent has spent behind the case
Status of the request, such as – Open, In Progress, or Closed
Number of cases that are assigned to an agent
View the details of the case by hovering over it
View if the agent is available or on leave
Gantt View:
Helps you to view all the agents and the cases they are working on
Knowing the duration of each of case helps while assigning tasks as to prevent agents from overworking/burnout
To assign a new case as per the agent's schedule
Timeline View
List of all the agents and the cases assigned to them.
The hours spent on a case in a day
Agenda View
List of all the agents
Case title assigned to the agent
Without using a calendar, it becomes chaotic for managers to view what their agents have been working on, the number of cases the agents have been working on, the status of the cases, etc.
Challenges managers face without Calendar 365
The problem in prioritization of the case as per its criticality due to lack of visibility when you are dealing with a huge flow of incoming requests
Frustrated customers because they don't receive the answers to their cases on time
Burning out of the agents as there is no visibility of the priority of cases
The organization is unable to meet the deadline and expectations of the customers
Poor time management
How calendar 365 can help you overcome these challenges
Our Calendar 365 is best if you are unable to keep track of incoming customer cases and the work happening on them. If you want to have a clear visualization of how, when, and who is taking care of a particular case, Calendar 365 is the best solution.
Visibility of Current Schedule
It is important for managers to have an eye on their team's tasks. But when you have a huge team, it becomes difficult to constantly have an update on everyone's tasks.
To address exactly this issue, Resource Calendar makes it easier for managers to have visibility of all the ongoing activities.
Managers can see the number of cases their team is working on, who is working on which case, the progress, etc.
If the manager has any important case to assign to any resource, they can quickly have a look at their schedule and add tasks if they have available hours.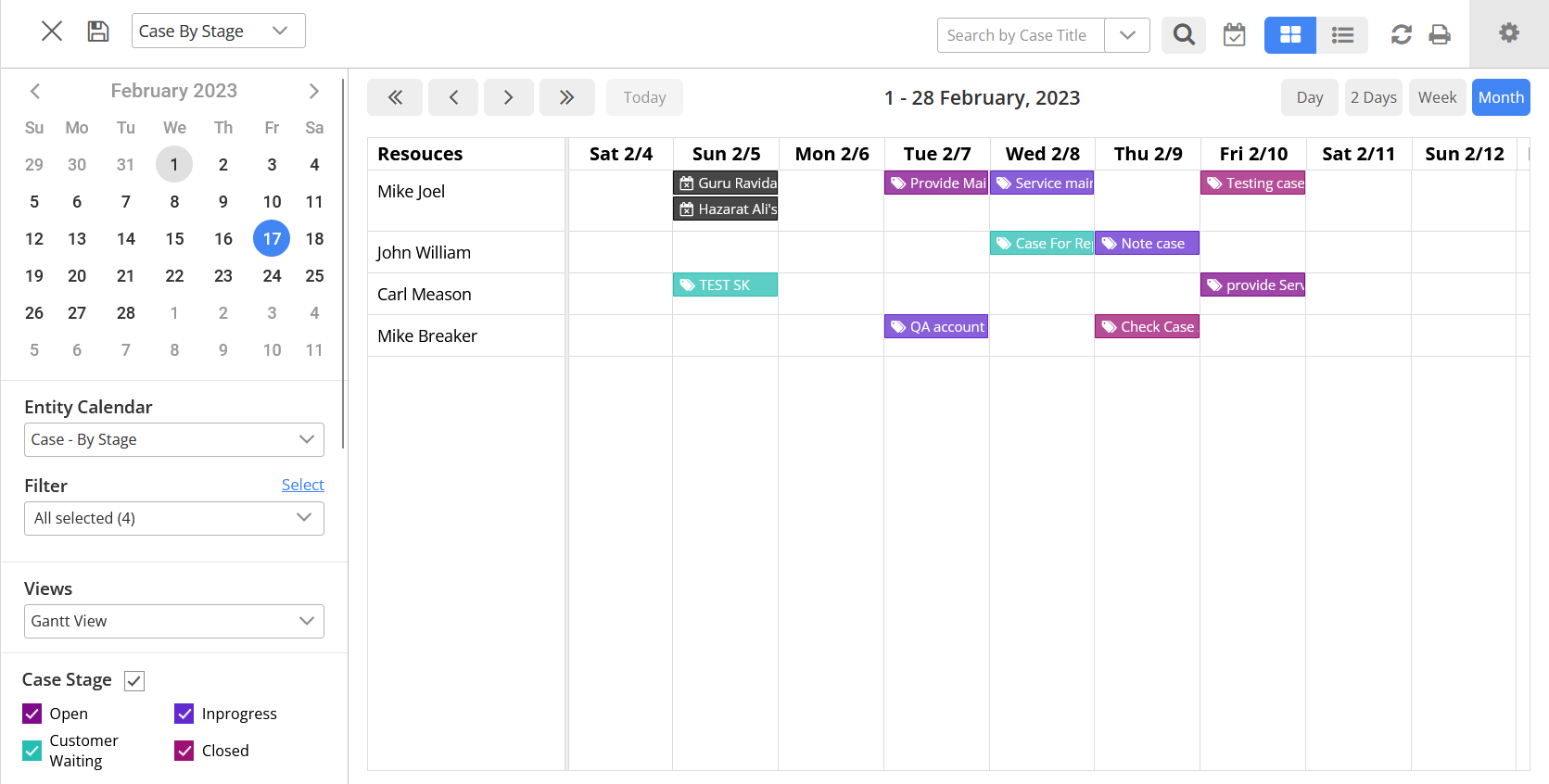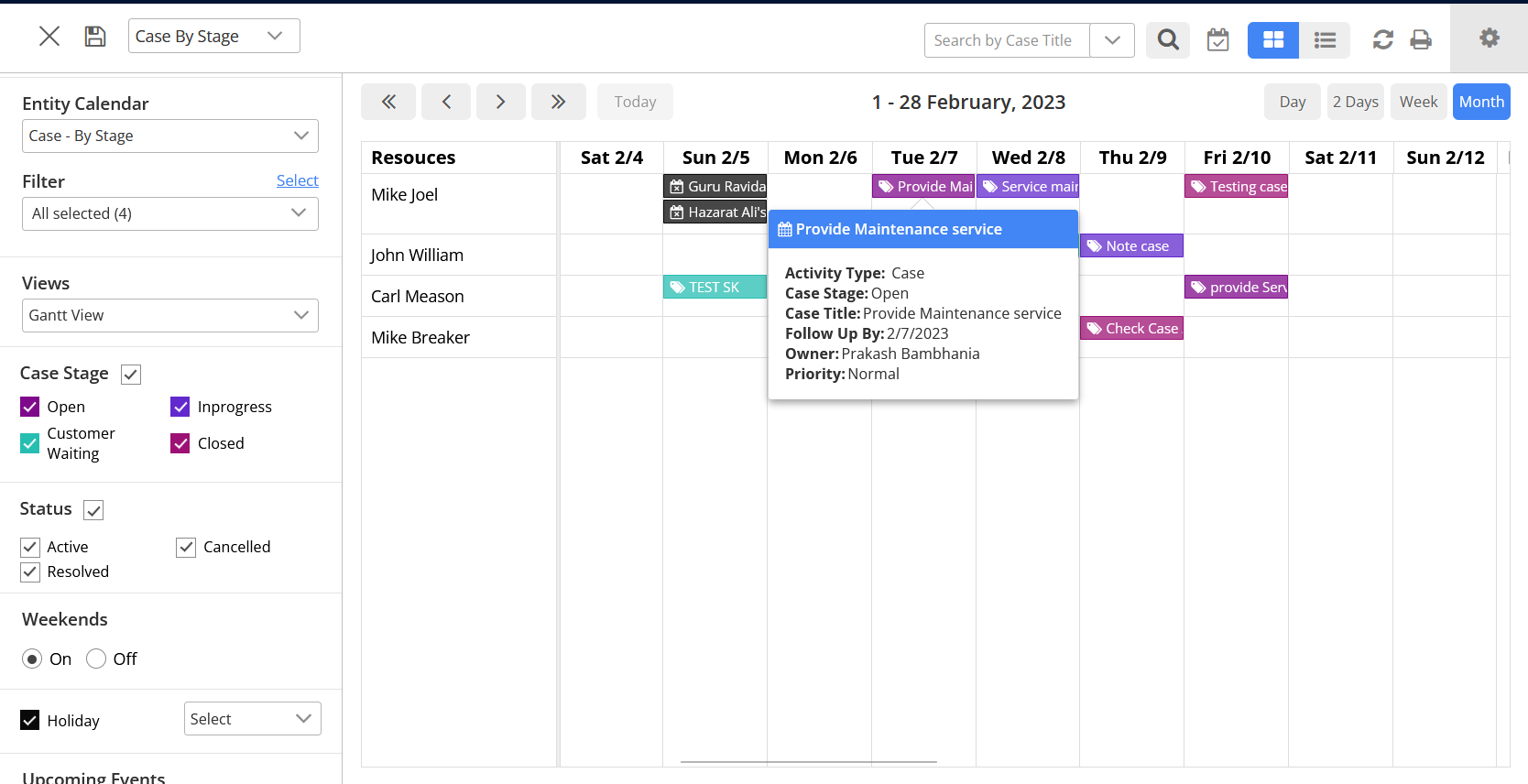 Track Customer Requests and Complaints
Calendar 365 will help you track all the cases generated by a customer. Managers can track the lifecycle of the cases and also see if the case has been resolved or not.
In some cases, customers generate cases multiple times, maybe because their issue is not resolved properly or they have a new problem. For managers, it is important to keep an eye on such cases to understand the actual reason behind the case generated and whether the solution provided by assigned resources is sufficient.
Calendar 365 lets you see the number of cases generated by the customers, the progress of the current request, details of all the past cases, resources assigned to those cases, and much more.
Such an engagement will help you and your team to take care of the issues that customers are facing and resolve them.
Customers that are satisfied with the effectiveness of the responses are going to become loyal customers of your brand.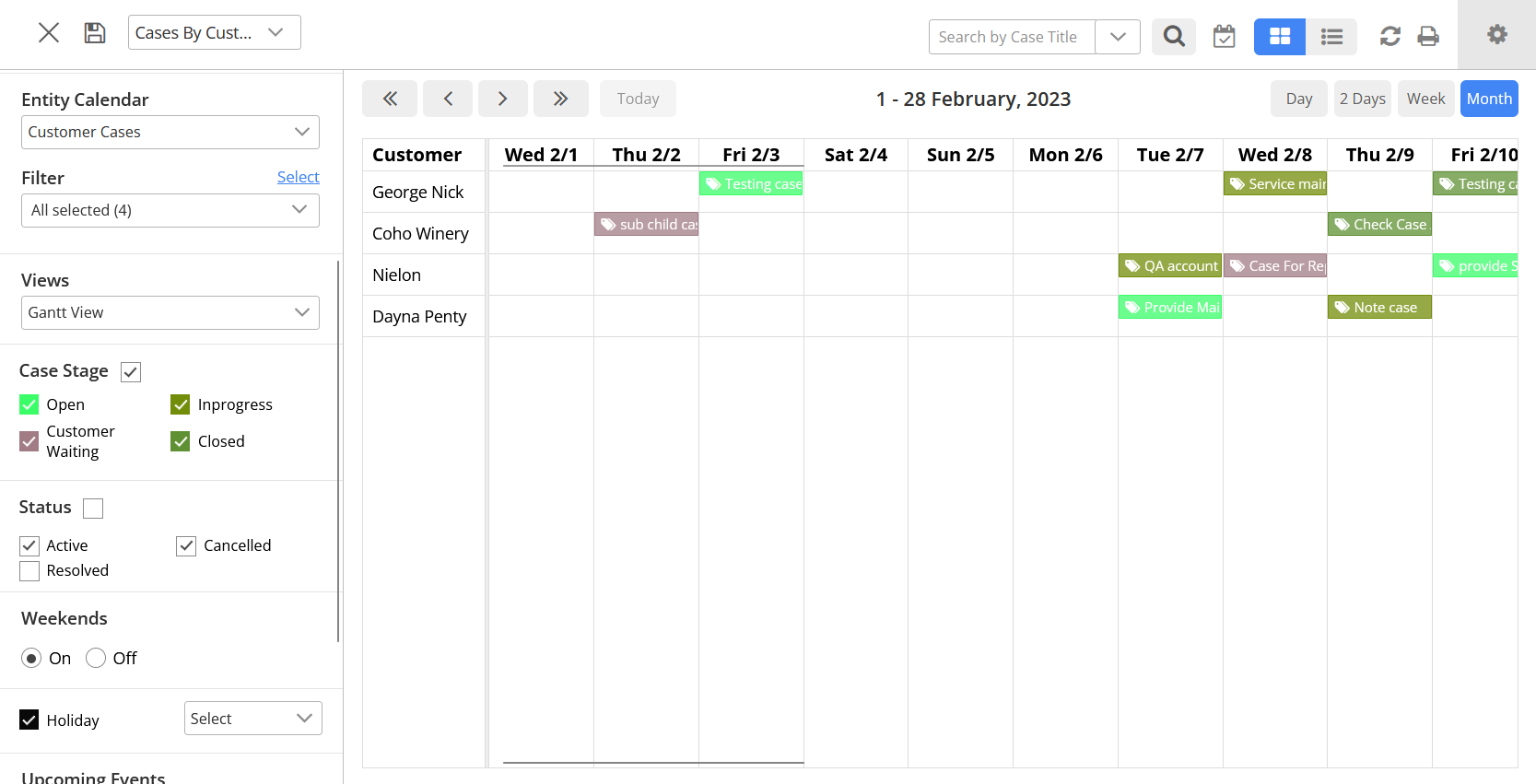 Online Appointment Scheduling
Scheduling an appointment with an open booking link is the new normal. Gone are the days when a customer would email to book an appointment with you.
All you have to do is add your resource's availability, types of events (services you offer), and generate a booking link. Share this link with your customers. Using this link, they can choose their preferred time slot and date. Once they confirm, both parties get the email confirmation.
Your support representative does not have to waste time while manually booking the appointment. It is time-consuming and has a high risk of human error.
But with Calendar 365, you don't have to worry about any of these things.
You don't have to verbally ask or draft an email to know what your team is working on. Having a clear view of all the activities on a single screen makes managing huge teams much easier. The whole experience changes the way you offer customer service.

All product and company names are trademarks™, registered® or copyright© trademarks of their respective holders. Use of them does not imply any affiliation with or endorsement by them.