A large number of organizations today seek to synchronize Microsoft Dynamics CRM Calendar with Outlook. They want a reliable connection between Microsoft Dynamics CRM Calendar and Outlook to get the information into Dynamics 365 through Outlook easily. However, most users don't know how to sync their service calendar in Dynamics 365 with Outlook.
So, if you are also looking to integrate Dynamics 365 Calendar with Outlook, this post can guide you through the procedure. You'll also learn the benefits of this synchronization in the post.
Let's start with two different approaches to integrate Dynamics Calendar with Outlook.
In the first way, you can install the Dynamics 365 app for Outlook and get web access to track all the emails across virtually all devices. In the second way, you can opt for full Dynamics 365 for Outlook Desktop Client with offline capabilities.
We'll go through each procedure one by one in full detail.
1. Dynamics App for Outlook
Dynamics 365 App for Outlook is a light app that you can use to create new records and track emails. For the best performance, you should enable only the minimum number of record types (entities) required. It is available as a Microsoft Office add-on.
As per the December 2016 update for Dynamics 365 (online and on-premise), pairing Dynamics 365 App for Outlook with server side is usually the most preferred way to use Outlook with Dynamics 365. If you want to access the offline capabilities of Dynamics 365, install Dynamics 365 for Outlook Desktop Client.
Steps to Install Dynamics 365 App
Ensure to have the security privilege to use Dynamics 365 App for Outlook.
Check and make sure that your organization has synced mailboxes with server-side synchronization.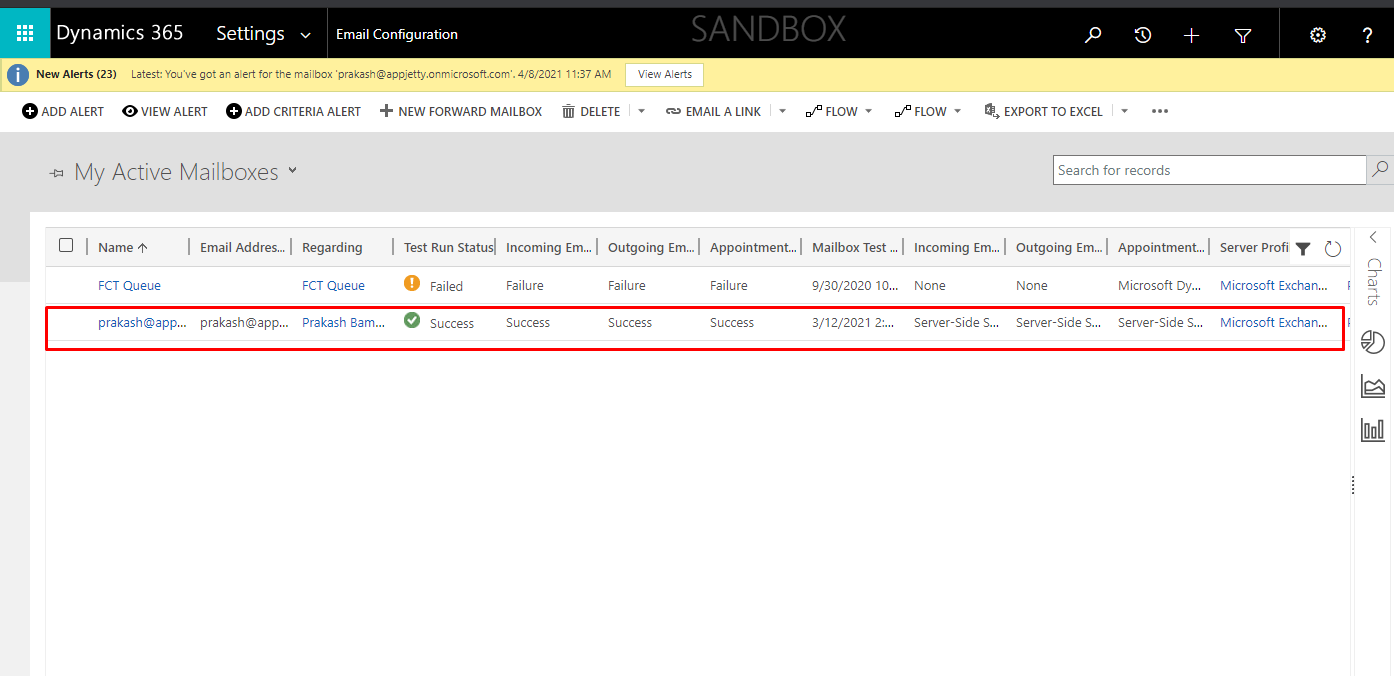 Click on the "Settings" button in the top-right corner of your Dynamics 365 CRM Calendar app. Click "Apps for Dynamics 365".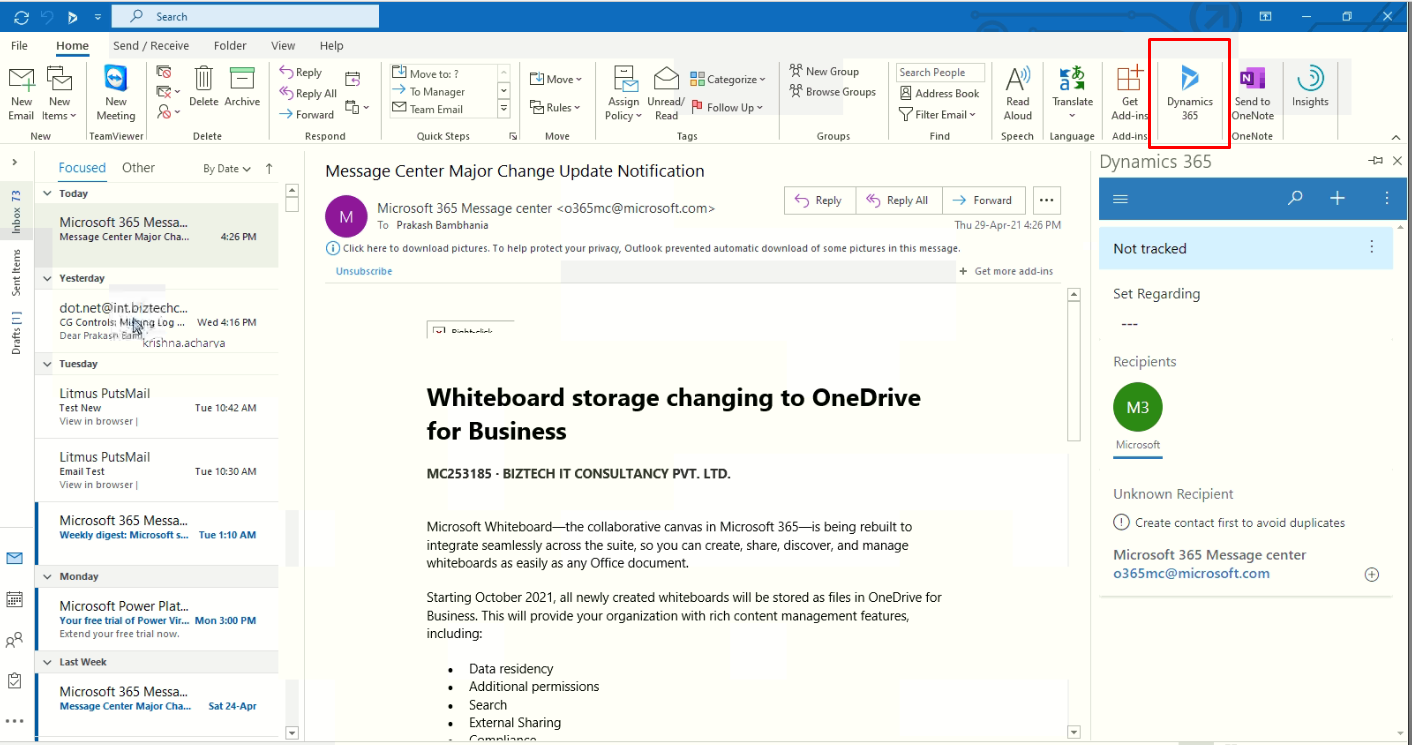 On the "Apps for Dynamics 365" page, click Dynamics 365 Apps for Outlook under Dynamics 365 Apps for Outlook.
Install the app.
2. Dynamics 365 for Outlook Desktop Client
Dynamics 365 for Outlook is a freely downloadable app that integrates Microsoft Dynamics 365 (online) into the Outlook interface to enable a user to work efficiently with both email and Microsoft Dynamics 365 (online) data. This helps provide full Dynamics 365 capabilities (including offline capabilities) from Outlook.
Steps to Install Dynamics 365 for Outlook
Check and make sure that the computer meets all the necessary Outlook hardware requirements.
Log in to Dynamics 365 as a local Administrator.
After a successful login, run the Setup file.
Accept the License agreement and choose whether you want to download the Recommended updates. Click "Next".
Click "Install Now".
Once you install Dynamics 365 for Outlook, configure it. When you restart Outlook after you install Dynamics 365 Calendar CRM for Outlook, the configuration wizard auto-starts.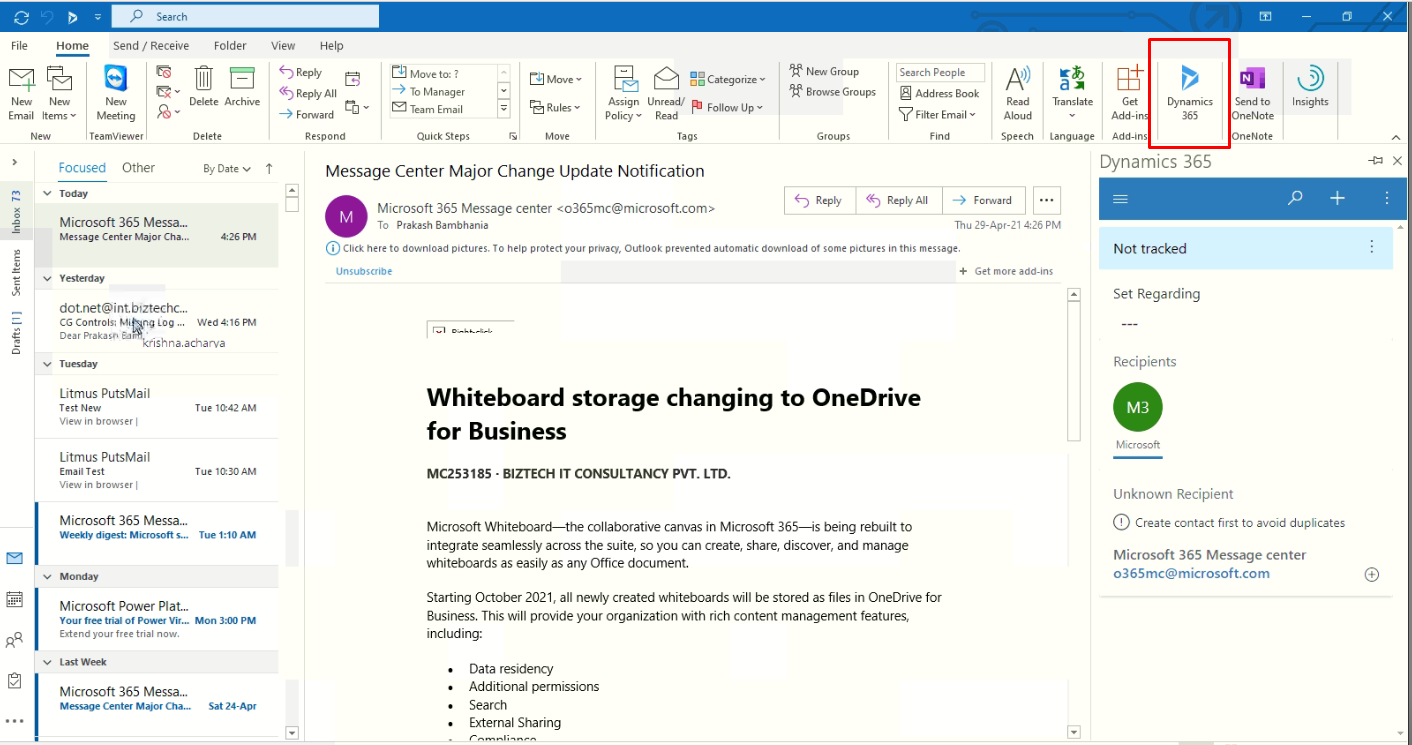 Points to Note:
You can't install Dynamics 365 for Outlook on a computer running MS Exchange server.
Dynamics 365 App for Outlook doesn't support tracking activities when you use it along with Outlook for the same user. You have to choose only one out of the two to track activities.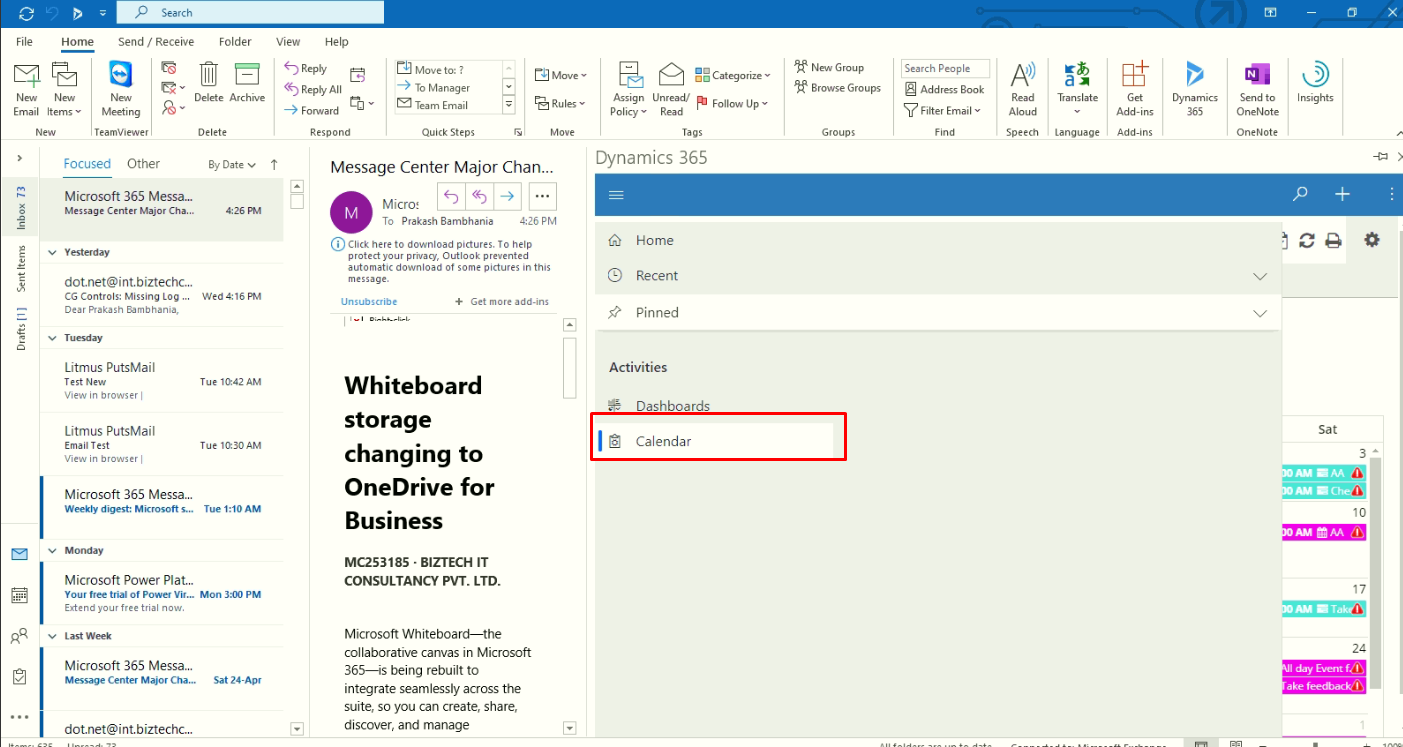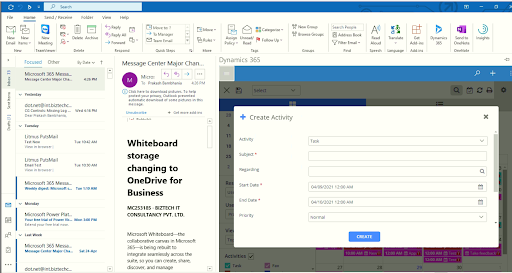 To deploy to Dynamics 365 on-premise users, there is a need to configure internet-facing deployment (IFD).
Benefits of Integrating Dynamics 365 with Outlook
Now that you know how you can integrate Dynamics 365 CRM Calendar with Microsoft Outlook look at the benefits you get by integrating Dynamics 365 with Outlook.
Integrating Microsoft Dynamics 365 with Outlook consists of a long-standing approach that includes enhancing productivity. Synchronizing both Dynamics 365 and Outlook will help users update CRM, enhance organizational efficiency, improve ROI, and reduce costs.
Single Platform Access – Be it emails, contacts, clients'/donors' info, sales activities from either CRM or Outlook, you can view it all from a central location and manage it well.

Easy Contact Management – The integration of Dynamics and Outlook brings contacts from both together in one place. Therefore, it eliminates the need for manual data entry. The synchronization further helps avoid any kind of data records or chances of record duplication.

Third-Party Email Clients – MS Dynamics integrated with Outlook enables users to integrate Gmail and other messaging apps with Dynamics CRM seamlessly and easily.

Helps Synchronize Calendars – Synchronizing the Microsoft Dynamics CRM Calendar allows for a flawless organization of activities. It lets your team view create, and edit all the CRM data in Outlook or Dynamics.

This makes keeping check of the appointments much easier and more efficient. Letting your team create meeting alerts, follow-up reminders, and notifications, lets it work better and more efficiently.

Email registration – By saving emails to be added into Dynamics 365 with a single click or auto-saving Outlook emails in Dynamics 365, you can consolidate clients' communication history. This auto-saving of outgoing emails helps users set the preference of emails they want to add to CRM.

Easy Dashboard Customization – Users can use the dashboard of Microsoft Outlook as per their convenience and preference. They can view all the activities related to specific roles and change the panel section as well.

Allows Working in Offline Mode – You can save all of your data on local servers and access it offline. So, if you make an email association in Outlook, it will appear automatically in CRM when you log in to your CRM next time.

Increased Productivity – Dynamics 365 integrated with Outlook helps boost productivity as it merges the most organic CRM data with your emails, tasks, and calendar events.

Enhanced Productivity – Dynamics 365 with Outlook helps increase productivity by merging the most germane CRM data with your emails, tasks, and calendar events. It also provides insights into potential clients and beneficiaries with better communications.

Matching input from CRM to Microsoft Outlook client emails can get your team members more contextual information which they can use to strengthen personal relations with clients in the future.

Greater Efficiency – By integrating Dynamics 365 with Outlook, you can easily get a huge surge in optimized performance and efficiency of your organization. This is because the integration works offline also, which makes progress beyond the network connectivity possible.

The feature of the filter of data allows access to the information the users need as per their requirements. The information can be related to sales figures, meeting updates, donors' invoices, and more through a single common standard interface.

Boost to Teamwork – When you share a common platform to exchange data, it positively impacts your teams. It also reduces gaps between different departments and brings them all close to each other in working. The work, thus, becomes more transparent and the client's loyalty becomes the common goal for all the departments with the integration.

Easy Tracking of Tasks – Microsoft Dynamics CRM task management becomes easier with the integration of Dynamics with Outlook. The "Track in CRM" feature allows you to effectively track CRM tasks on Outlook and navigate through them more easily.

Simple Creation of Opportunities – When you compose emails with powerful text-editing, Outlook's features and CRM's functionality, you can create opportunities and cases more easily. The integration allows you to access web resources, email templates, and CRM custom fields easily from Outlook. You can include any kind of CRM data in your email and easily pick items you select most often from the "Most Recently Used" list.
AppJetty Can Help You With the Integration of Dynamics 365 with Outlook
Just like you can integrate Dynamics 365 with Outlook, you can also integrate Microsoft Dynamics CRM Calendar with Outlook. If you want help integrating Microsoft Dynamics CRM Calendar with Outlook, we can help you with that.
We also can provide you with a Dynamics 365 calendar plugin to manage all your customers, appointments, meetings, etc., right from within your calendar. It is a calendar plugin that helps you overview scheduled, ongoing, and completed activities of your whole team. It has features including activity management, shared calendar, resource management, multiple saved calendars, and more.
To know more about integration or get any help, you can contact us at sales@appjetty.com. You can also check out our Dynamics 365 Calendar plugin.

All product and company names are trademarks™, registered® or copyright© trademarks of their respective holders. Use of them does not imply any affiliation with or endorsement by them.