As an organization grows in size, manual customer management becomes tedious. There are some industries/businesses where scheduling of appointments is highly important.
Let's consider that you own a popular salon or spa with a large customer base. With a continuous rush of customers, their management can grow hard. In such a scenario, giving appointments to your customers instead of letting them enter randomly can save both your and your customers' time.
There are two ways to book slots – manual and automatic. While manual appointment scheduling can work for small or medium-sized businesses, it can pose a challenge for big enterprises. Here comes into play an appointment scheduling software program.
Let's read in detail about an appointment scheduling software and its benefits.
What is Appointment Scheduling Software?
Appointment Scheduling Software lets customers book an appointment with a service provider via a website, mobile application, or kiosk eliminating the need for staff to ensure that appointments are scheduled manually.
Benefits of Automated Appointment Scheduling for Enterprises
Seamless Customer Journey
Customer experience today is not just restricted to customers' in-store, on-site or in-app experience. It is rather the sum total of the experiences a customer has had across all the touch base points.
Though technology has led to the advancement of the entire service industry, physical stores still exist and matter. Therefore, using digital technology to enhance your customer journey from booking an appointment to the actual in-person visit to your store is crucial.
And an appointment management software can do that. It makes the first touchpoint where a customer books an appointment engaging and user-friendly which in turn enhances the customer's journey ahead.
Enhanced Customer Experience
Booking appointments is a powerful way of serving customers. Instead of visiting your store physically or calling you to book appointments, an integrated appointment scheduling software offers them hassle-free appointment booking experience through your website or app. All they need to do is visit your online store or app and simply book the slot of their choice out of the available slots. And once they book an appointment with you, you get a notification in your CRM and then you can assign the same to your team. A perfect flow without any redundant communication.
Increased Staff Productivity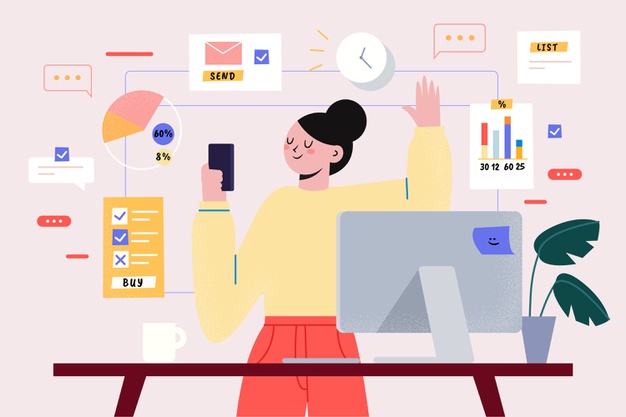 An appointment-enabled service in place can help increase the overall productivity of the staff. With the advanced knowledge of the appointments of an entire day at your disposal, distributing the workload evenly among your staff members in a given shift becomes easier.
As there would be no random check-ins, your staff members would be prepared to serve customers more effectively resulting in enhanced staff productivity as well as prevent a situation where a customer has to wait for their chance.
Automation of Customer Communications
Managing appointments manually requires more labor and time.
For instance, if a customer has to postpone or cancel an appointment; changing it manually would take more time and energy. Further, there would be unnecessarily increased communication between your team and customers over calls or messages. There are also chances that your members make mistakes while making such changes. At times, you may also need to remind a customer manually of their appointment if they fail to reach on time.
What if all these tasks are automated?
Your time and energy will get saved and chances of errors would reduce to a minimum. And an appointment scheduling software does exactly that.
It lets customers book appointments and cancel or postpone them right from your store, site, or app. This way, it helps you manage appointments seamlessly and stay on top of customer satisfaction.
How our Dynamics 365 Calendar Extension Can Help?
Our Calendar 365 for Dynamics CRM has a number of functionalities that can help increase your productivity.
Let's walk you through several of its features that can help streamline your management of customers as well as team members.
✔️ Creation and Management of Multiple Activities – No more managing multiple calendars and forgetting events, email follow-ups, etc. Create, edit, and copy CRM activities as well as custom activities.
✔️ Quick Multiple Actions – Convert any calendar activity into existing cases/leads & reassign them to other users or teams with few simple clicks. You can edit or copy any event and re-assign to the user/team as required.
✔️ Improved Activity Management – It allows you to create appointments or tasks related to clients and manage them, add or remove them easily from within the Calendar.
✔️ Resource Scheduling – By letting you have a full knowledge of and control over every member's working hours, break timings, etc.; it helps streamline your management of resources.
✔️ Easy Calendar Views – With 4+ views of the calendar with a dynamic tooltip and detailed pop-up, it lets you view all your appointments, activities and tasks easily right from within the calendar.
Besides, it has features like shared calendar, real-time reminders, activity filtration, custom calendar, and several others that make it an ideal solution for appointment scheduling and management for enterprises.
As you have understood how appointment scheduling is beneficial for your business, it is high time you added an appointment scheduling software to your arsenal.
To know more about its features or integrate, drop us a line at sales@appjetty.com and our team will get in touch with you within 24 hours.