SEO is Google's way of determining which site needs to rank higher in the search list. Without modern SEO, it's challenging to get quality organic traffic to your store. In addition, the constant updates in the algorithm make it difficult to maintain ranking of websites. For instance, in the Sept 2020 update, Google introduced mobile-first indexing, prioritizing the store's mobile version before desktop. With June 2021 came the Spam detection update, followed by a Page experience update coming next month.
In such a scenario, where online competition is high, running a successful Shopify store becomes difficult. However, to ensure that you're not left out, there's a huge list of best SEO plugins for Shopify to help you get higher rankings and more traffic.
They are supplemented by a range of Shopify Apps for SEO Image optimizer to cover all the tracks in the process. This article is all about that.
Here you'll find out about the best Shopify SEO apps and all the apps related to key factors of SEO. Some apps are free to use, while others offer a paid subscription with a trial period. You'll learn about their key features and a lot more.
Let's dive into it.
1. AVADA SEO: Suite Optimizer
Many factors affect the website's loading speed, such as animations, a large volume of unoptimized images, high-resolution images, etc. To ensure that it doesn't affect your store, AVADA SEO optimizer comes to the rescue. It is a suite of SEO optimization features such as images, structured data, HTML site map, meta tags, and more.
With AVADA SEO: Suite Optimizer, you can auto-insert Alt tags to every image on the product page, collection, and blogpost. Optimize the images to increase the page loading speed. Furthermore, you can auto-add the page structure data such as snippets to help Google understand your page content.
Next, you can create the HTML sitemaps for easy navigation, optimize meta titles and descriptions, verify your site authority, and analyze your site's SEO with detailed reports.
Key Highlights: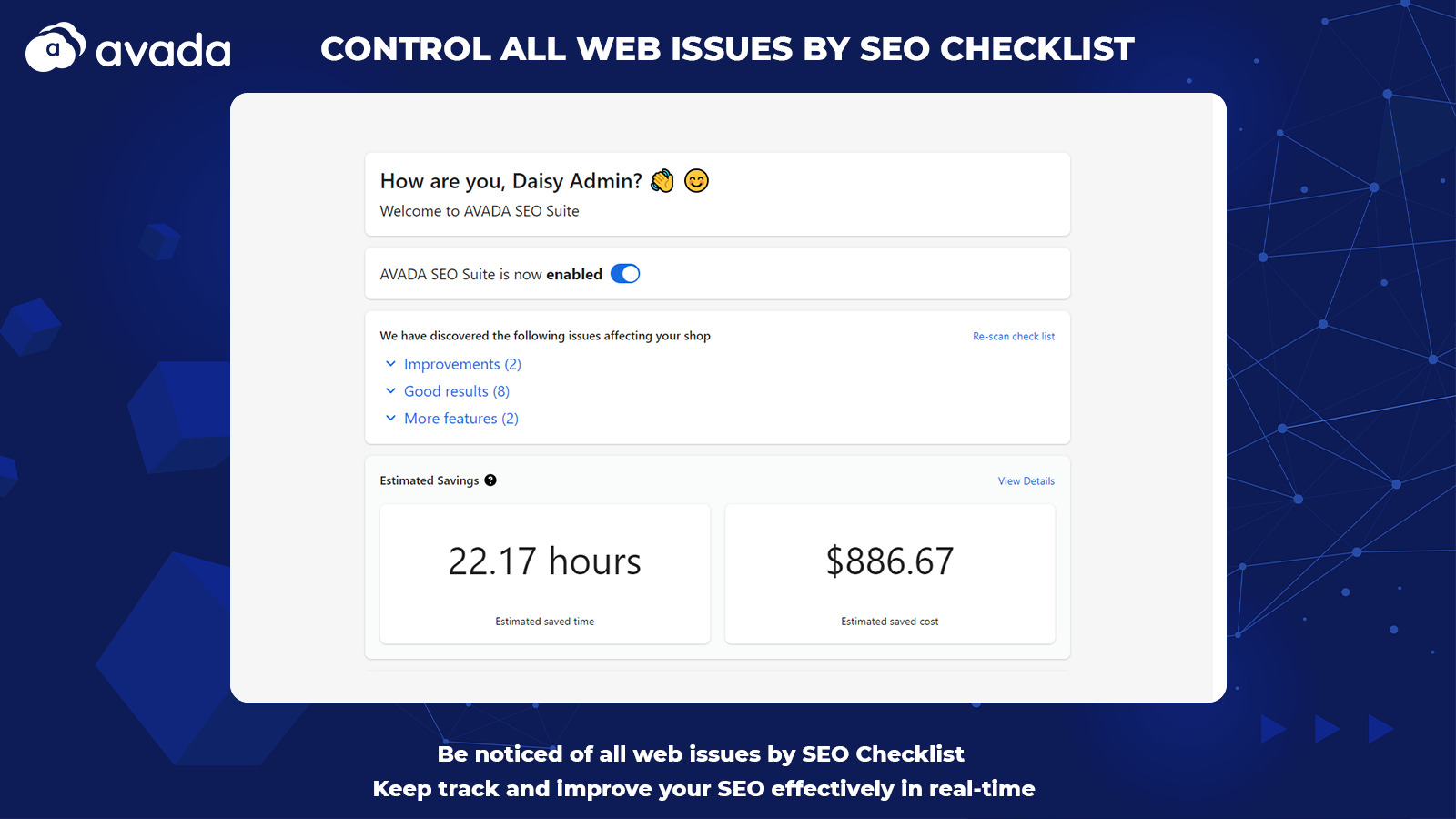 Image optimization
Detailed SEO analysis
Social meta
Redirect 404 pages
Integration with best Shopify apps
Pricing: The app offers free and paid versions. The paid version comes with additional features and starts at $29/month.
Cons: The free version offers only 50 products' image optimization per month. Besides features like meta tags, social meta are all in the paid version, and there's no trial period.
Rating: 4.9/5
Shopify Store Link: AVADA SEO: Suite Optimizer
2. Plug-In SEO
Keywords are not the only way to ensure that your website ranks on the SERPs. You need to monitor your store's SEO strategy and fix SEO issues. That's probably the reason you should go for Plugin SEO – one of the best Shopify Apps for SEO.
Trusted by more than 30,000 store owners, this app helps optimize stores by checking and fixing SEO issues. It provides everything that you need for on-page optimization, including broken link check, search console, keyword suggestions, image alt text, schema, and more.
This plugin offers free and paid versions. If you're just starting off and looking to get basic SEO optimization, the free version will suffice. It allows users to check unlimited pages for SEO issues.
The paid version targets the advanced users who want to hone their store's SEO with options such as custom templates, structured data, fixing broken links, and premium support.
They also provide tons of training videos to help the users with quick installation.
Features Include: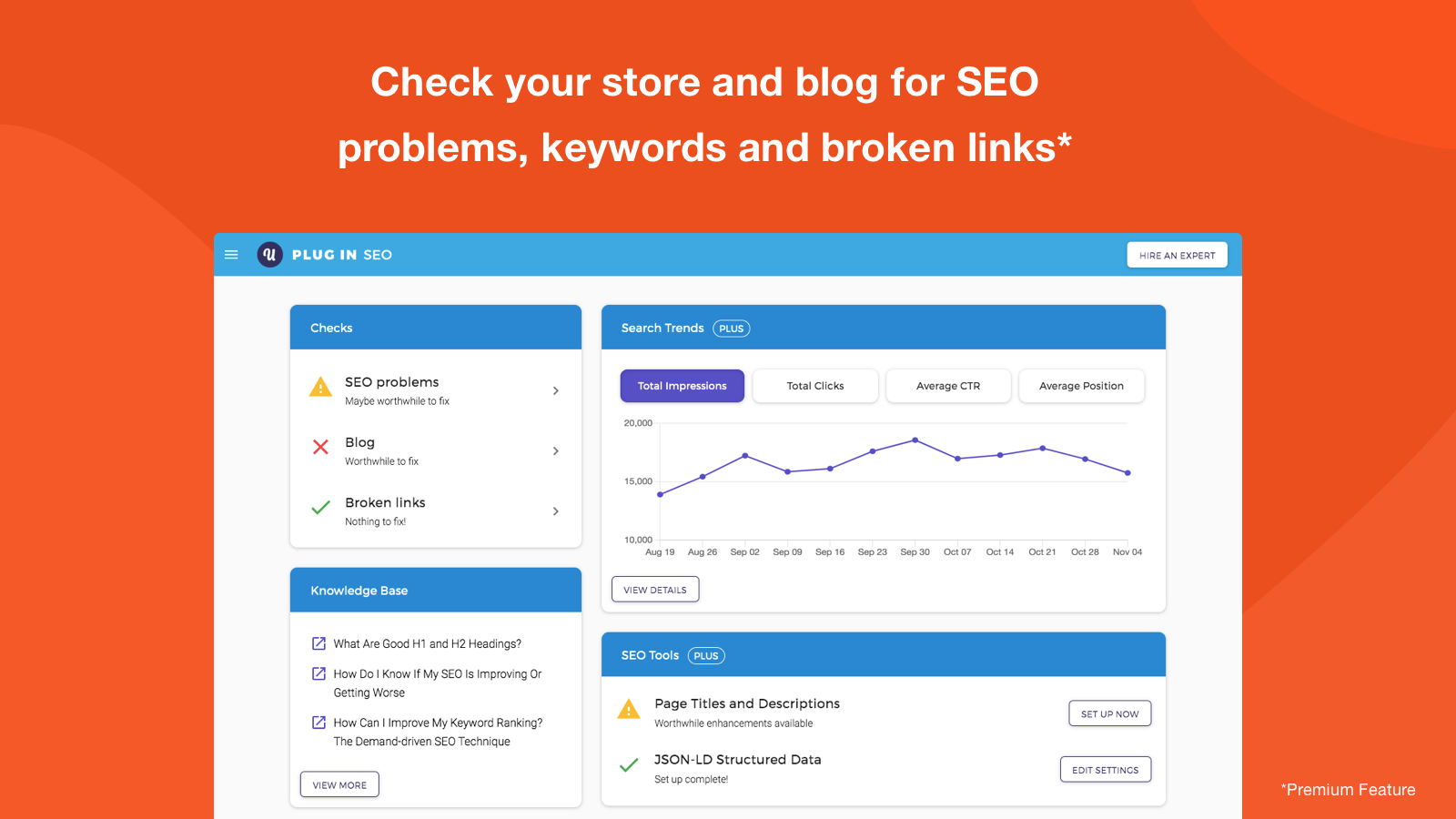 Structured data (JSON-LD)
Bulk edit SEO data
Keyword tool and suggestions
SEO health check report
Supports multilingual SEO
404 broken link redirects
Monitor organic traffic
Pricing: The paid version starts at $20/month.
Cons: It offers only a 7-day trial.
Rating: 4.7/5
Shopify Store Link: Plug-In SEO
3. Bulk Image Edit – Image SEO
The first thing that we notice about the product is the image. Images help us get a better idea of the product. For instance, if you're selling apparel, a low-quality image won't be helpful to customers. It won't help them identify the color, variations, and other elements of the product. Hence, the Bulk Image Edit app by Hextom focuses on image optimization to increase the page load and traffic to your store.
It's one of the best Shopify Apps for SEO Image optimization, thanks to the features like bulk image compression, alt-text and image name updates, image resizing, watermark, etc.
Like other SEO plugins for Shopify, this app ensures that Google understands your images and shows them to potential customers.
Highlights are: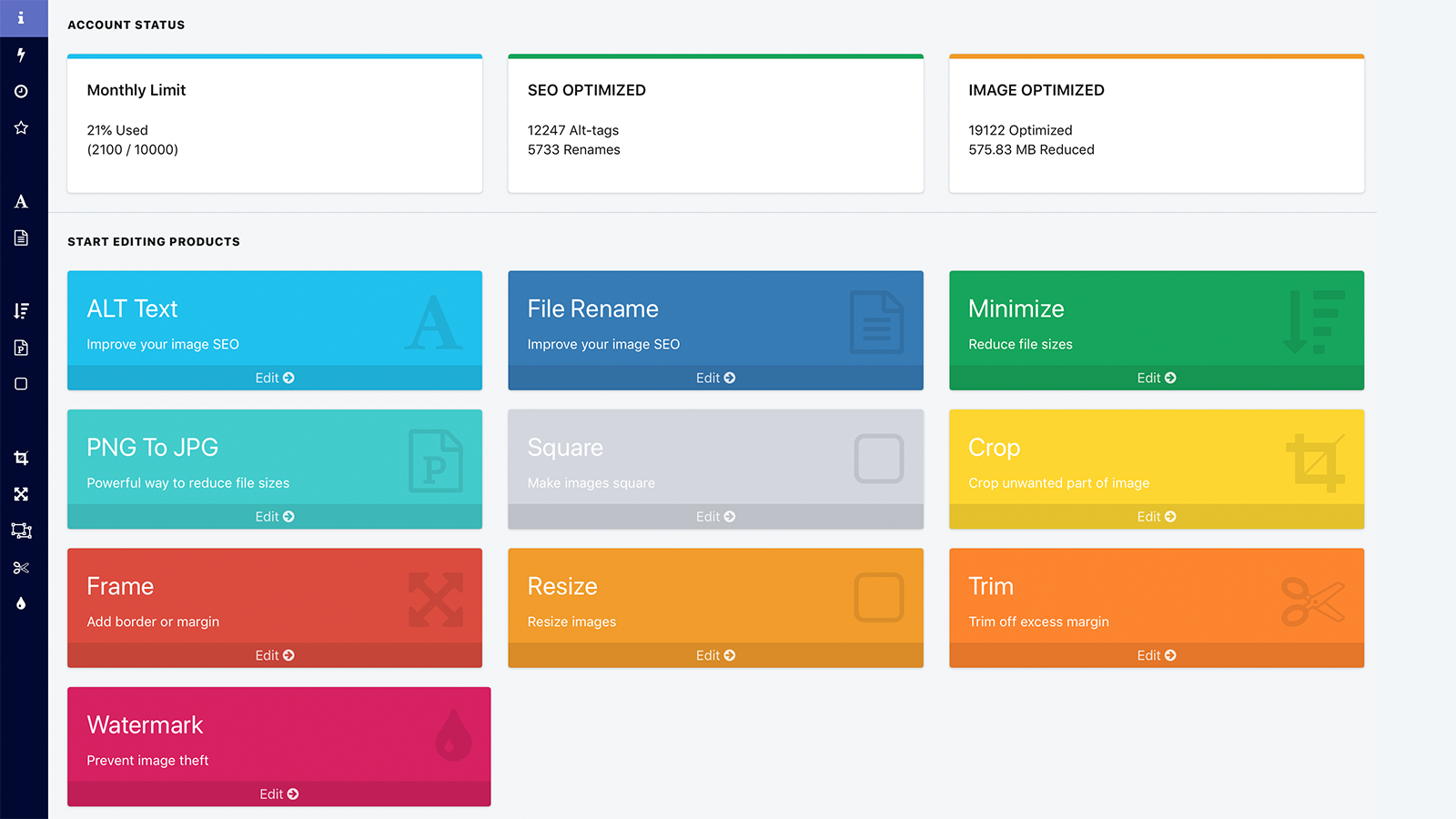 Auto-update Alt tags and file names
Bulk image compression
Watermark to protect images
Image review
Options to redo and undo the changes
Pricing: The app offers free and multiple paid plans starting from $9.99/month to $49.99/month.
Cons: The free plan offers only 50 image edits per month. For features like watermark, image rename, crop, you need to shift to the paid plan. The app is too costly in comparison to others with the same features.
Rating: 4.8/5
Shopify Store Link: Bulk Image Edit – Image SEO
4. CommerceXpand
Would you like to optimize the store and increase conversions? Do you want an app that can provide you with a bundle of standalone apps? How about one that covers everything from reducing cart abandonments, boosting sales, capturing leads, protecting stores, to optimizing it? CommerceXpand is a bundle of Shopify apps that helps upsell the business while enhancing customer experience.
This bundle of 20+ apps allows you to convert currency, helping customers understand how much it costs in their local currency. Next, it offers features like image optimization and Alt tags, keeping in mind the SEO perspective.
With CommerceXpand – one of the best Shopify apps for SEO, you can compress images in bulk and reduce the load time. You can manage the optimization process automatically and manually. For example, you can set image compression on auto mode. This way, whenever a new image is uploaded, it will be compressed automatically according to the defined size, height, and width.
For Alt tags, you can choose the pattern from the available options or add a new pattern in which the alt tags should be added. This is applicable for products and blog images.
You can also optimize the file names, restore, and even view the summary of the images.
SEO Highlights: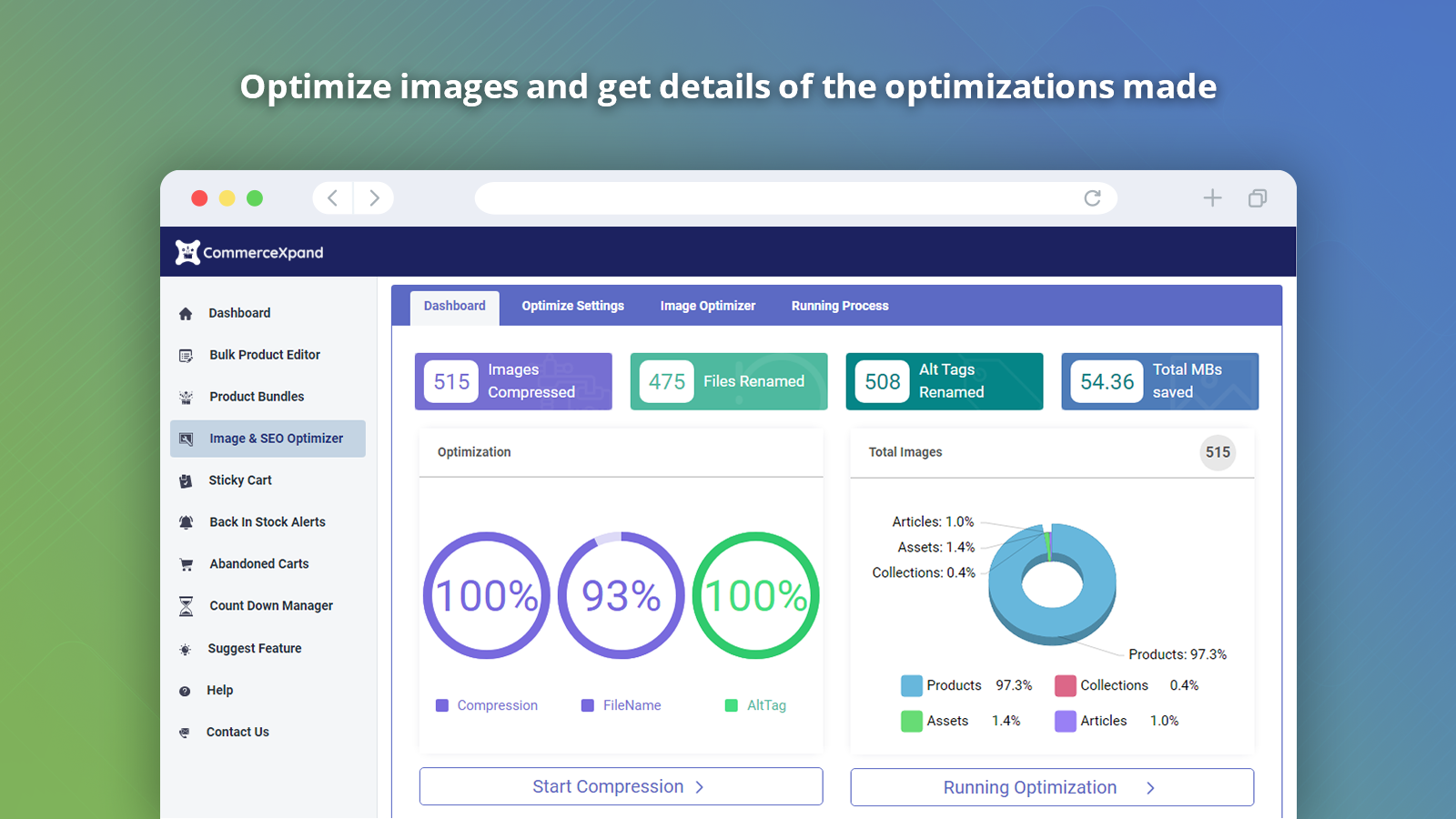 Bulk image optimization
Auto add alt tags
Automatic and manual image compression
Image summary
Running process status
Image restoration – auto and manual
Other Features: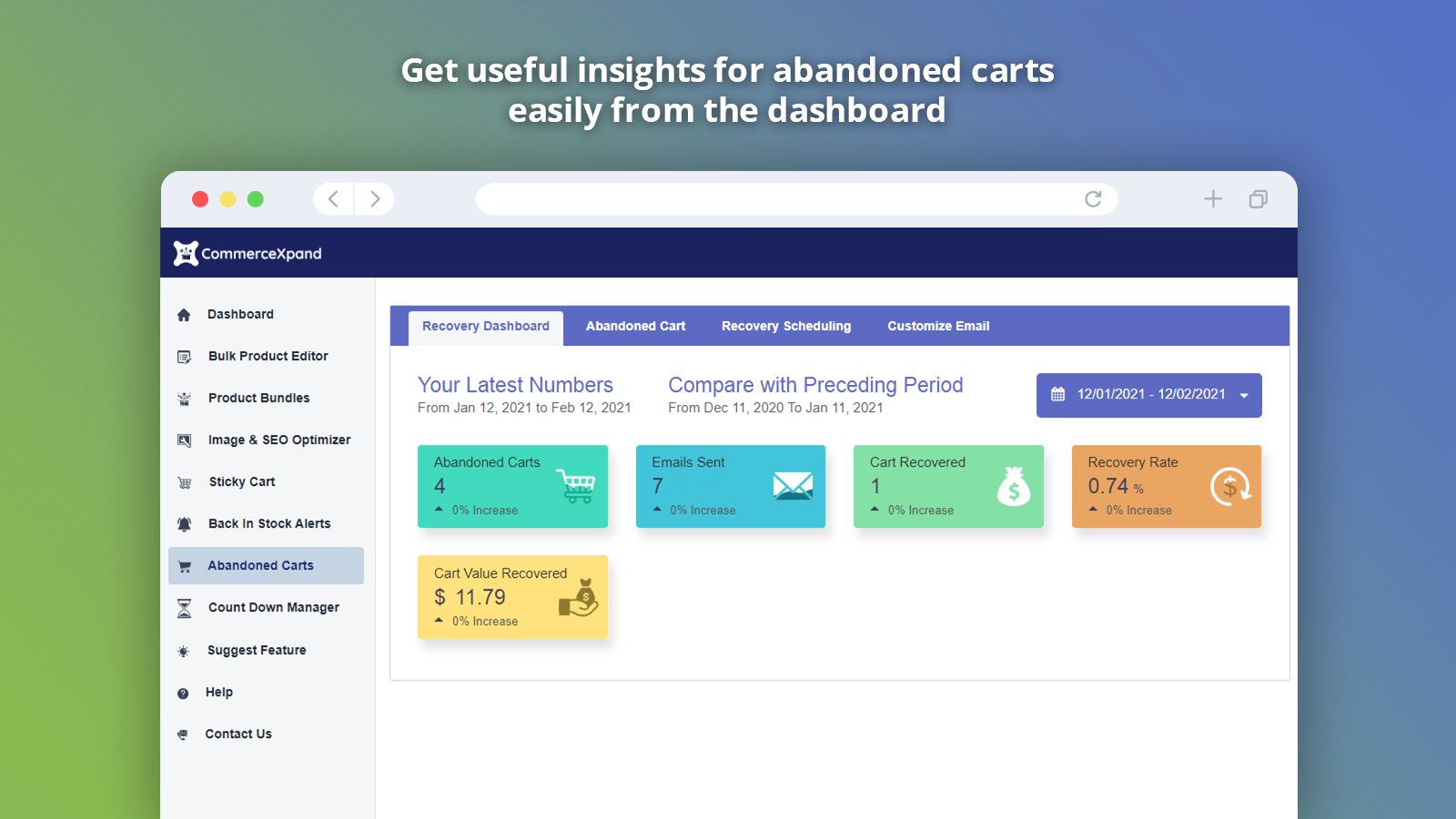 Abandoned Cart Management
Bulk Product Editor
Currency Converter
Add to Cart
Back in Store Alerts
Countdown Timer
Product Reviews
and a lot more.
Pricing: The app offers free and paid plans. The paid subscription starts at $11.99/month only.
Note: You get all those 20+ apps at $11.99/month.
Cons: There are no reviews.
Rating: Be the first one to rate it.
Shopify Store Link: CommerceXpand
5. JSON-LD for SEO
If you want to boost your conversions by showing product details like price, images, availability directly on the search page, then JSON-LD is an app for you. It is specifically designed to boost organic traffic through rich snippets.
With this app, you don't have to compete for better ranking or ensure that the snippet is error-free. It auto adds the code so that every page gets structured data. Simultaneously, it updates the SEO data at specific locations in HTML files in the form of microdata or JSON-LD code blocks.
Highlights Include: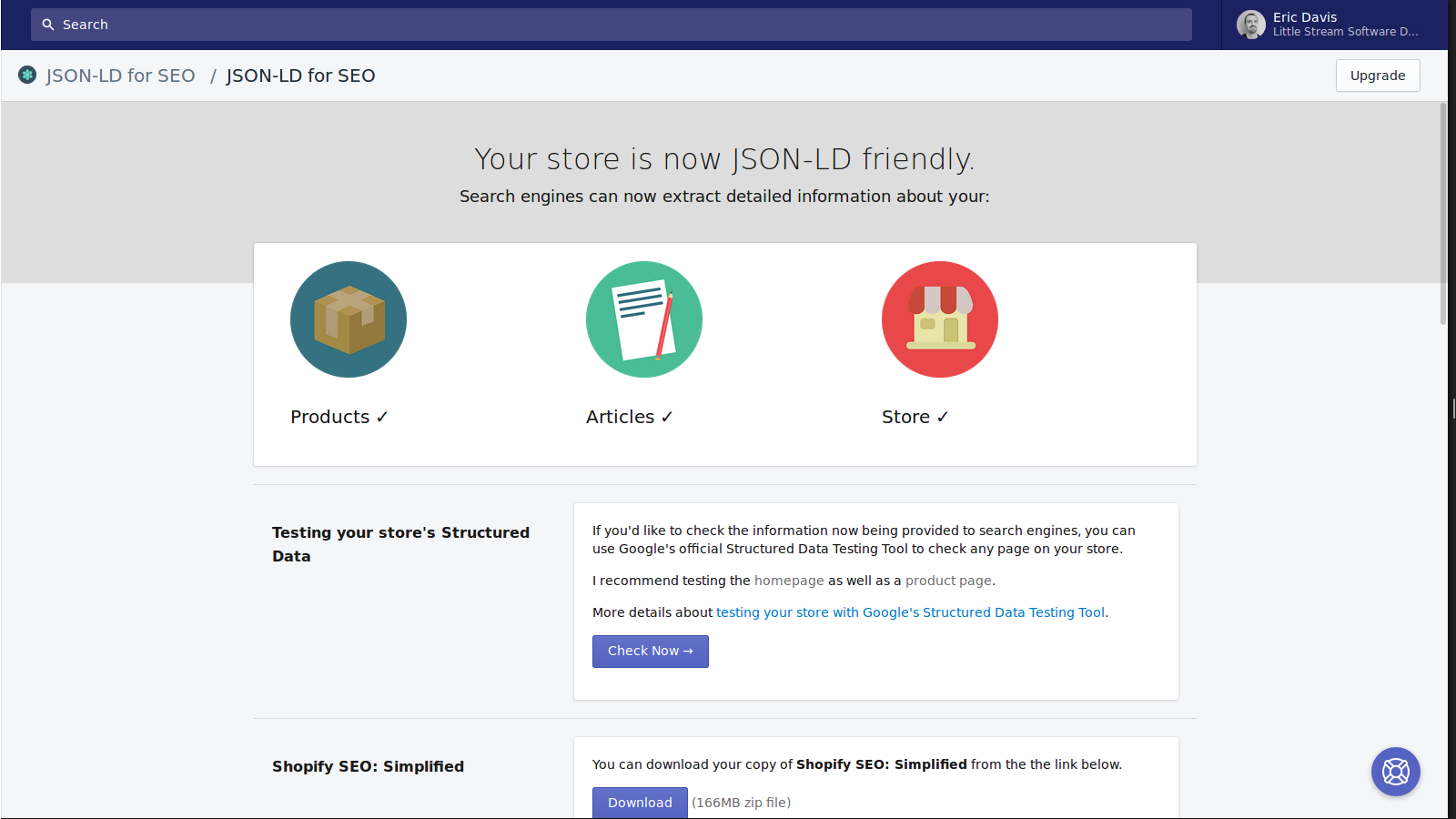 Boosts Google search traffic
Increases conversion rate
Auto adds the code for structured data
Adds data at a specific location in proper formats
Pricing: It is $299 for a lifetime.
Cons: There is no free trial, so you won't know how it works for you. Besides, no monthly plans, and this price is too expensive if you're just starting.
Rating: 4.9/5
Shopify Store Link: JSON-LD for SEO
Final Thoughts: What Should You Choose?
If you have a well-established business and need advanced SEO features, choose Shopify Apps for SEO with features like meta title to image optimization and protection. If you're just starting or need basic SEO optimization, choose an app that provides image optimization features.
Image optimization is one of the key features of SEO, and many businesses have difficulty with it. So, an app like CommerceXpand is a good option. It's not only one of the best Shopify SEO apps but a must-have Shopify app due to the features it offers that too at a considerable cost.
CommerceXpand provides 20+ apps at $11.99/month, which is way more affordable than all the only SEO-specific apps mentioned here.
You should think about it before choosing one for your business.

All product and company names are trademarks™, registered® or copyright© trademarks of their respective holders. Use of them does not imply any affiliation with or endorsement by them.