In 2021, mobile commerce is forecast to generate about 72.9% of total online retail. A mobile-first approach is the cornerstone of your online business. Customers are looking to make their online purchases on the go. This implies that an ecommerce website with a mobile app is no longer a luxury but the need of the hour.
Various global brands have revolutionized the ecommerce app market. Be it healthcare, fashion, grocery, or any other industry; an ecommerce app is a must for your business. If you are looking for some examples of best ecommerce apps 2021 to get inspiration and ideas, you are at the right place.
In this post, we will walk you through an ecommerce app example for five different industries. You'll also learn how an app solution can get you an app ready for your business.
1. MyChart
MyChart is a healthcare app powered by Epic. Epic is a healthcare software company that provides an electronic health record system to healthcare providers. Founded in 1979, it powers your access to information through MyChart.
MyChart helps healthcare providers and patients access all the relevant information in one go. With centralized access to all the information, the management of employees and patients becomes more effortless.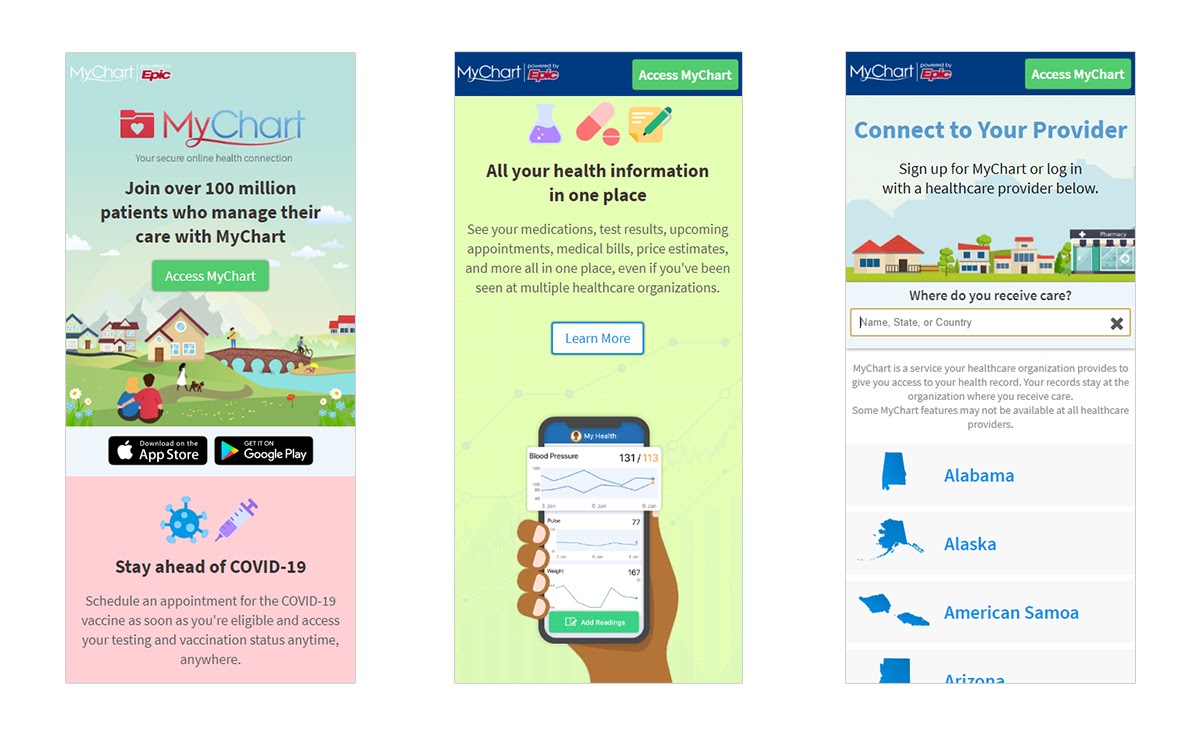 The functionalities that this healthcare app offers are:
Communication and exchange of information between you and your healthcare team.
Easy reviewing of test results, immunization records, medications, and other health information.
Support for connection of patients' accounts to their personal devices to fetch all the health-related data.
After Visit Summary to allow patients to view past visits, hospital stays, and any clinical notes.
Scheduling and management of in-person or video appointments.
Price estimates and viewing, and payment of bills
Sharing of medical records across healthcare teams on the go with access to the Internet.
Support for connecting patients' accounts from various healthcare organizations to view all the healthcare information in a single place.
Push notifications to inform you of various new pieces of information like news or discounts for patients.
2. Walmart
Walmart is a globally popular brand and offers millions of items for both home delivery and in-store pickup. It delivers millions of grocery and other utility products. The Walmart app gives customers an easy way to order what they want on the go.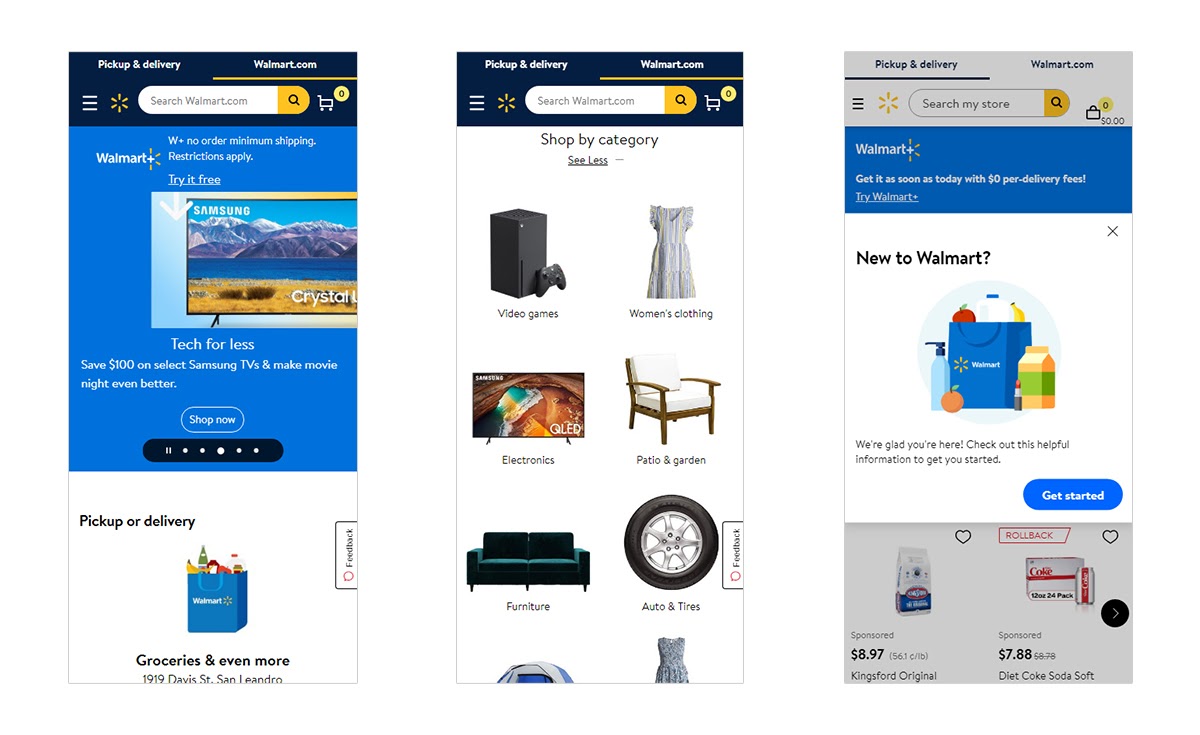 It provides an easy navigational interface through menu options at the bottom of the screen. The grocery app provides the following features:
Vast Variety of Options – Customers can pick from a vast variety of grocery items and more from the app.
Reorder – Customers can choose to reorder the items they have purchased before any number of times they need.
Favorites – Customers can add some items to their favorites list to view them anytime later and proceed to check out.
Departments – Customers can pick from "Departments" to view various product categories.
Delivery Options – Customers can choose between curbside delivery and doorstep delivery.
3. Moda Operandi
Lauren Santo Domingo and Aslaug Magnusdottir founded Moda Operandi in 2009. It is an online luxury fashion retail store that offers its customers hundreds of brands and designers to pick from for both men and women. Today, their business spans 125 countries.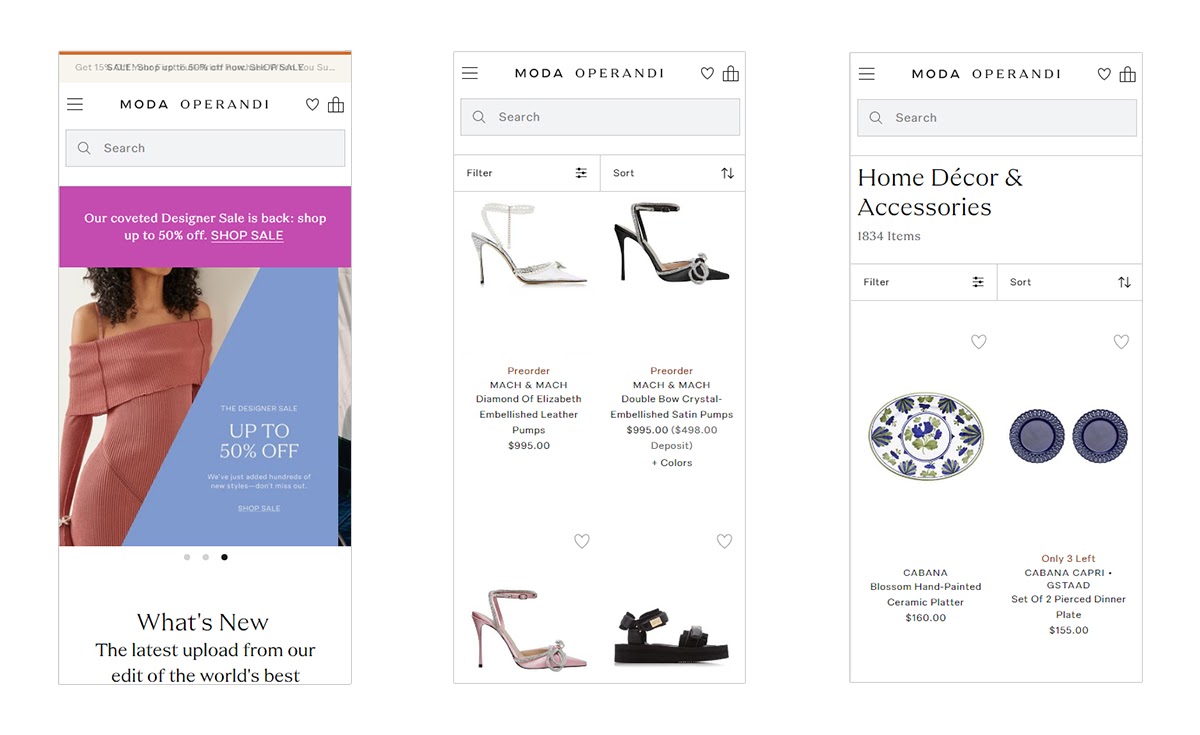 Moda Operandi also offers an app to drive all the mobile-first users' engagement. The fashion app that it provides allows customers to:
Shop expertly curated edits of over 1300 brands.
Discover emerging designers available exclusively on the app.
Shop influential names' curations in fashion.
Pre-order looks and products directly from their favorite designers and runway shows.
Browse and pick from entire collections curated across the globe.
4. GOAT
GOAT is a famous American brand popular especially for sneakers. Besides, it also deals in apparel and accessories. The brand provides a user-friendly app for customers and has the following features: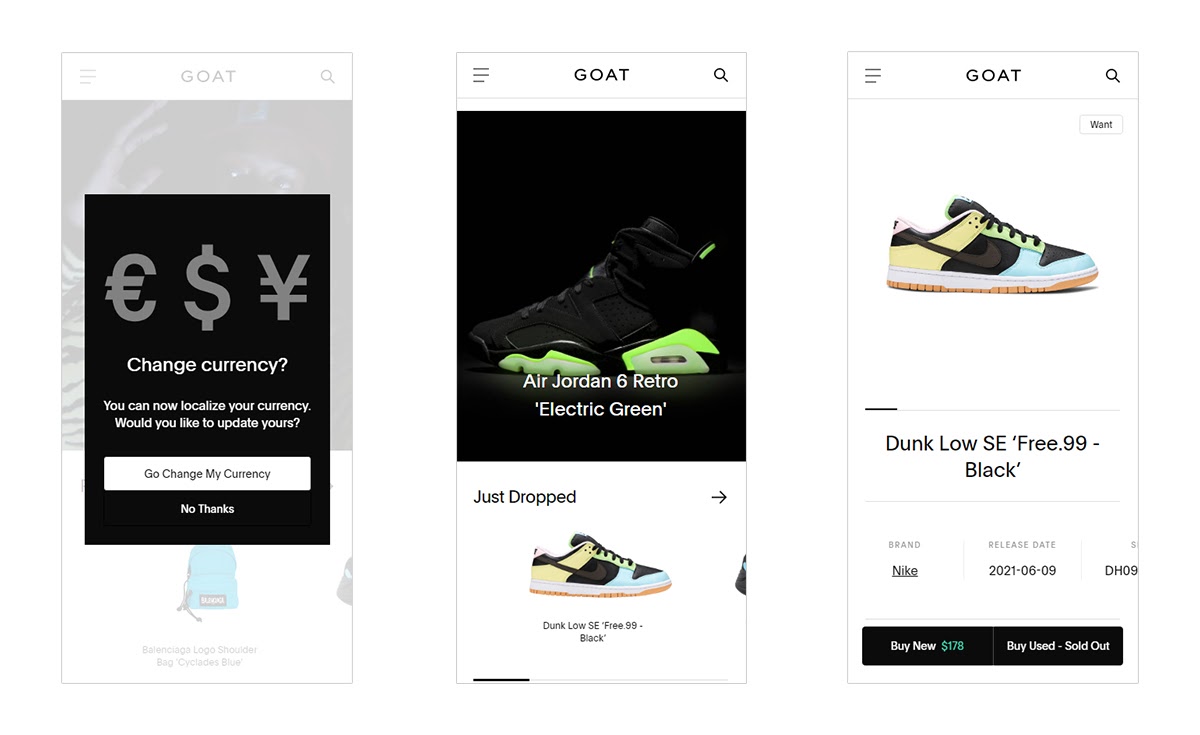 Buy Global Brands


Customers can explore over around two million listings. These listings include streetwear and popular designer brands like Air Jordan, Adidas, Yeezy, Nike, Off-White, Gucci, and more.

New Arrivals


Customers can track the upcoming releases, get notifications about them, save their preferred styles for purchase later, and place offers.

AR


Customers can not only shop but try on the sneakers they like with Augmented reality . There is also a column GREATEST, a magazine that features emerging artists and industry veterans' stories.
5. H&M
Hennes and Mauritz AB is a Sweden-based clothing retail company and is renowned for its fast-fashion apparel and accessories. Operating in 74 countries, it has over 5000 stores.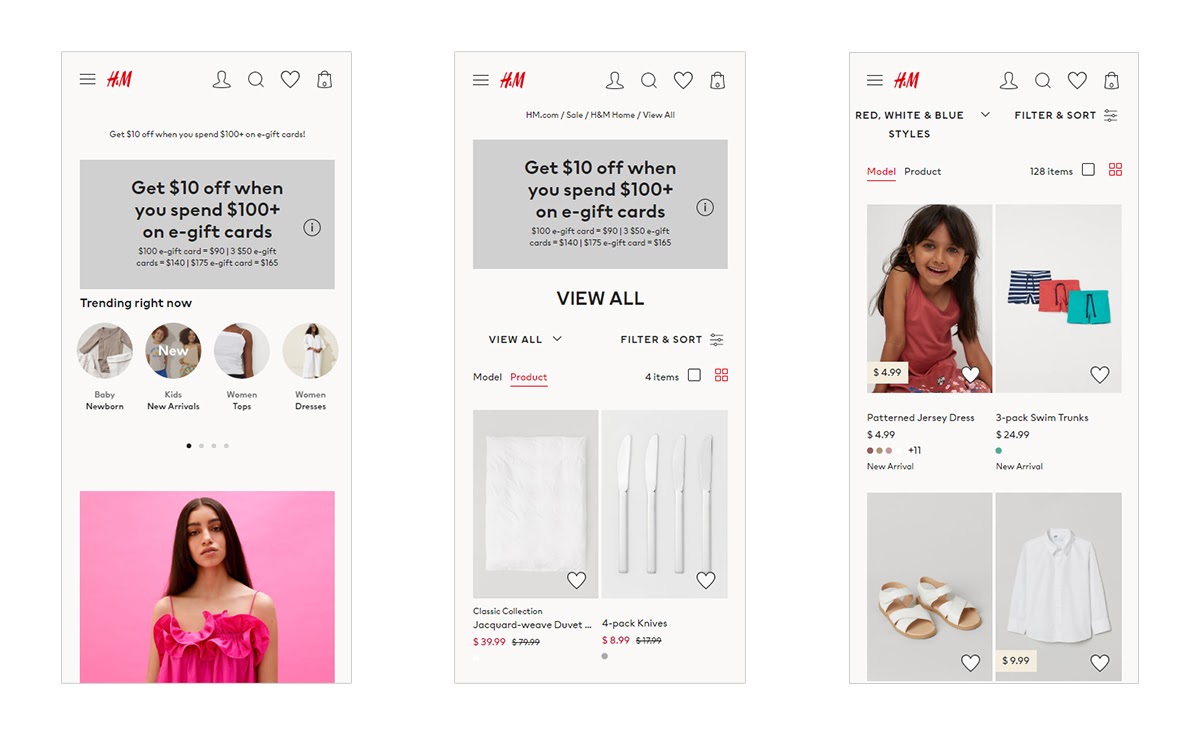 H&M has a fashion app that has the following good functionalities:
Instant Updates


The app offers instant updates about products back in stock, discounts available, sales offers, and more.

Order Tracking


The app allows customers to track their orders and stay abreast of the product's location in real-time.

SCAN & FIND


When customers are in store, they can scan the price tag to view all the sizes and colors of the product right from within the app.

Visual Search


Customers can explore products via VISUAL SEARCH. This means that they can use photos and screenshots of their products from their gallery to explore products. The app recognizes colors, styles, patterns, etc., and fetches a complete list of similar or matching products.

Save and Buy


Customers can save the items in their list of Favorites.

Push Notifications


The push notifications from the app keep customers abreast of the fashion world, new product releases, designer collection drops, and special offers and events.
Build Your Mobile App Now – With MageMob App Builder
Now that you know the importance of an ecommerce app and have already known the best ecommerce apps 2021, it is time to build your app.
If you are new to the business and looking for an easy way to build a mobile app, our MageMob App Builder can help you. You can take your business to everyone's pockets with your native Magento 2 mobile app for your Magento store.
Our MageMob App Builder is a pre-build framework of an app that enables you to launch your app in no time. It has various robust features that can work with both iOS and Android. It has got various features including:
Easy Registration and Profile Management


MageMob App Builder lets you create your account and manage and update personal details. Customers can create wish lists, recover passwords, notifications, etc.

Drag-and-Drop Builder


Our MageMob App Builder offers support for dynamic layouts to let the admin configure the design and feel of the mobile app. You can customize the home page, and other product pages the way you like to make them more appealing. There should be support for dynamic layouts to customize your mobile app's look and feel for Magento.

Live Synchronization


The admin can sync the app and store. This helps upload any new product, details, or change anything on-site without repeating it for the app separately. It helps the admin save changes manually and individually.

Seamless Navigation


Due to seamless navigation, the app users can find product listings, lists, orders, and settings without any hassle. Customers can also filter and sort products to view what they need without wading through categories.

Push Notifications


Push notifications are useful as they remind customers about different products, ongoing offers, discounts, coupon codes, and other updates. This helps you build customer loyalty and drive more engagement.

One-Page Checkout


MageMob App Builder lets customers place an order for the product they like without any troubles. It offers a single-page checkout to customers, which helps speed up the checkout process and helps reduce the abandonment rate.

Social Media Login


Through social media log-in, customers can log in to the app via social media sites like Facebook, Google, Instagram, etc.

Order Management


Order Management allows customers to view their purchase history, manage, track, and cancel orders from within the app.

Voice and Barcode Search


Customers can use voice search and barcode search to simplify and speed up the search process. They can simply speak into the microphone and find what they need. Otherwise, they can also scan the barcode of any product they have purchased earlier and fetch and view all the matching products from within the app.

Multi-Language and Multiple Gateway Support


The mobile app for your Magento store provides multi-language support. It also offers support for RTL (Right-to-Left) format Middle-Eastern countries. The app also lets customers pick from multiple payment gateways to give customers more flexibility. The in-app transaction is a great experience for customers shopping from within the app.
So, are you ready to transform your business digitally with an app?

All product and company names are trademarks™, registered® or copyright© trademarks of their respective holders. Use of them does not imply any affiliation with or endorsement by them.