Upselling and cross-selling are two of the most useful sales strategies. The best part about it is that your customer has already made a purchase from you. All you have to do is show them how their purchase has more value if they buy a new item that is related.
While it is easier said than done, certain products make for great upsells, like covers and cases for gadgets, handbags, and shoes for clothes, etc. Sometimes these items are quite dependent on the original item.
This method of selling piggybacks on sales already made. This also means that it is often the second time a customer is making a purchase from your store, so they can skip the initial steps like creating an account or typing their address. This makes for a much smoother checkout process with fewer chances of cart abandonment.
If you are selling an item like a storage card for a camera, then it is a product that makes their original purchase more useful, and so automatically becomes an item you will successfully upsell.
You can cross-sell or upsell after purchases or even after surveys you send and that's how you increase sales with the survey. In order to do that, you will have to configure it in your surveys. Here's how to go about it:
After configuring and inserting the details in the survey detail page, welcome page, and survey question page, you can add a Thank you page at the end of the survey.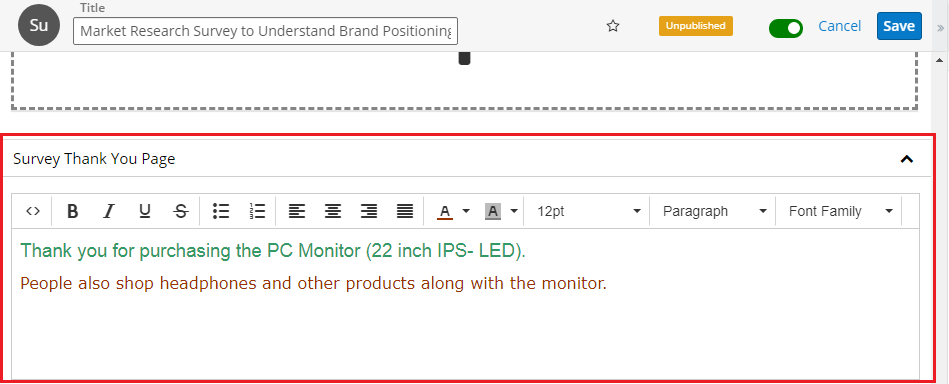 You can customize the Thank you page as per your requirements using the inbuilt Tiny MCE Editor.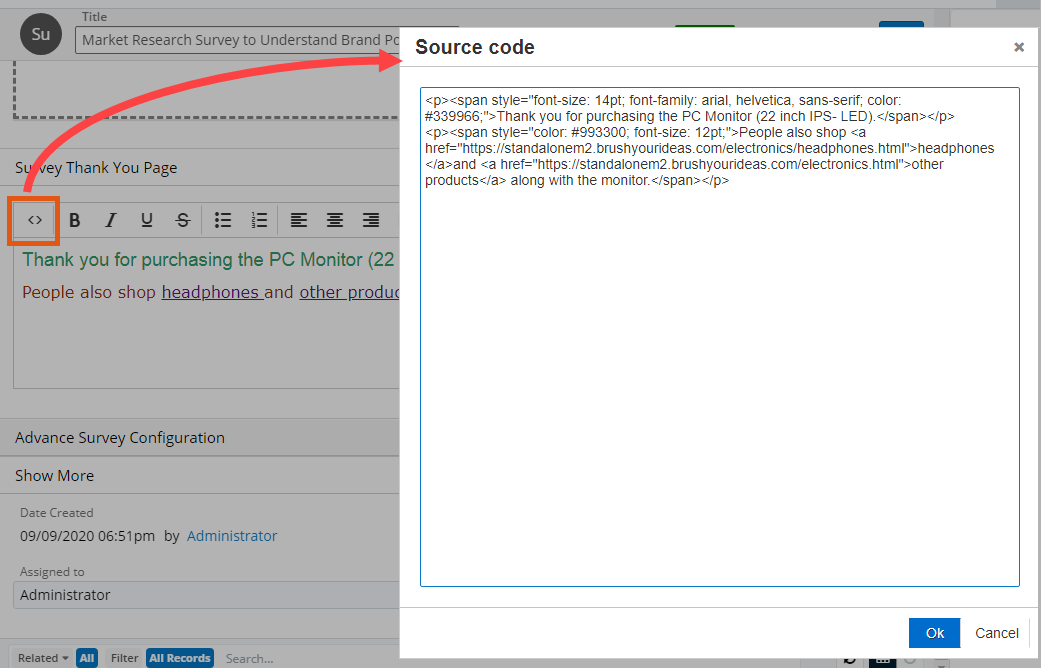 You can add the custom source code to design the Thank you page and insert the custom links.
Once your customers place the order or fill the survey, you can navigate them again on your shopping site by offering some other products related to the placed orders from the Thank you page.

You can insert the links to other products on this page. This way the customer will see other relevant products. This way you can increase sales of items that can pair well with the item they have already purchased.
With an online store, there is no one way to sell. There are multiple options and ways to get your products in the hands of the customers. And it is all about placing them in the right place at the right time. The 'Thank You' page after checkout or after a product survey are only some of those places. They also happen to be some of the influential ones since the customer is already thinking about their purchase.
All product and company names are trademarks™, registered® or copyright© trademarks of their respective holders. Use of them does not imply any affiliation with or endorsement by them.