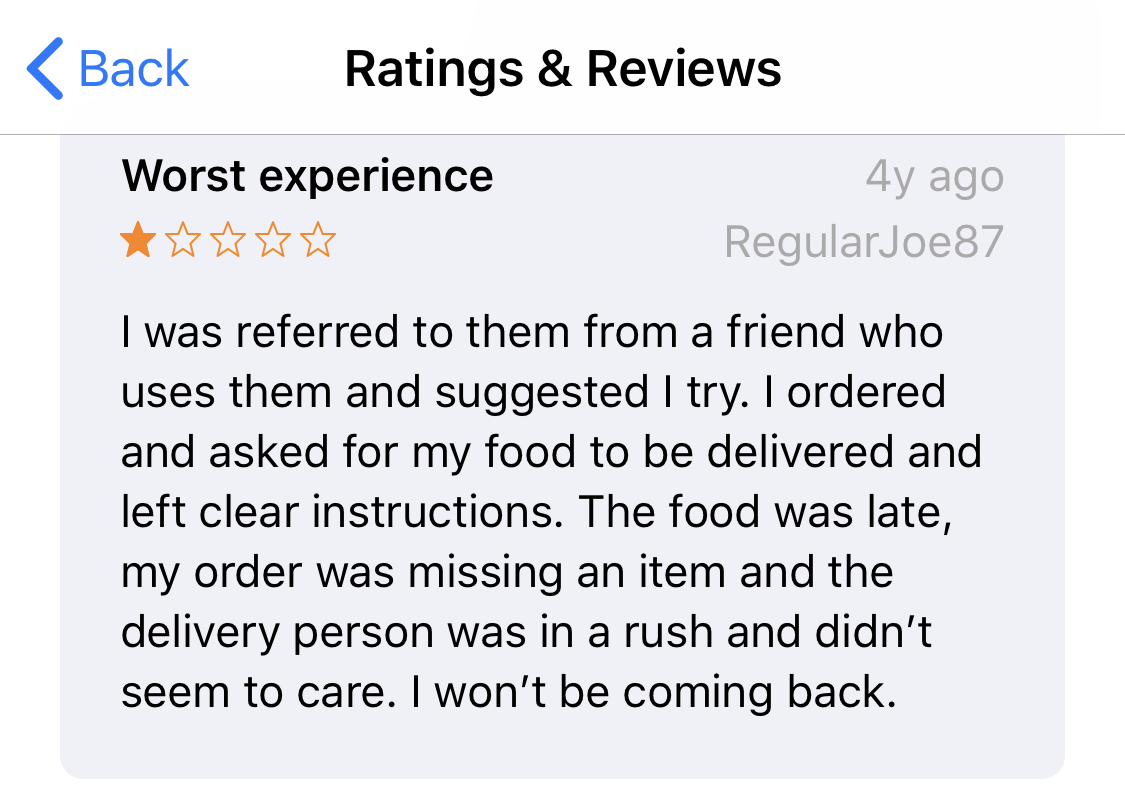 This is what you don't want! Bad reviews leave a wrong impression of your brand to the viewers. And as a business owner, you will be aware of how challenging it is to keep the bad reviews away from your website or app. It takes constant checks on different processes to ensure there is no glitch in the customer experience.
The best way to enhance the customer's experience is to give full control of choosing the delivery date and time. This not only offers rich customer experience and convenience to your users but also makes things easy for you. It may sound like giving such freedom to customers will make things tough for you, but that's not the fact. To prove it, I shall put more light on what is scheduled delivery and how it can actually help you to enhance your customer experience.
What is Scheduled Delivery?
Scheduled delivery is a type of delivery that enables customers to choose the date and time for their delivery. This type of delivery option is loved by customers due to the convenience and control it provides. Through scheduled delivery, customers can plan their days by choosing an accurate delivery window. This way the delivery person will also not have to wait as the customer will be on time and at the mentioned address to receive the order.
The only mastery needed here is to deliver the order on the scheduled date and time without delay or even early arrivals. Proper execution of scheduled delivery can be an ace card to win customer's trust and enhance their experience.
How Does Scheduled Delivery Work?
Once your customer finalizes what they want to purchase, they can choose the date and time when they want their order to be delivered from the available delivery windows. Then you will receive the order confirmation with the date and time you are supposed to deliver it. This will help you in managing the deliveries efficiently to ensure you never miss on on-time deliveries.
Delivering on-time is only possible when you have the backend process streamlined, including total orders on specific dates, their shortest routes, delivery person availability, etc. For this, you will need to have features like route optimization in your delivery date manager. So, once you are done managing and giving slots to the delivery person, you can provide them with the shortest delivery route to make the on-time delivery possible.
Challenges of Scheduled Delivery
No matter how sorted scheduled delivery sounds, it has its own challenges. Good news is that you can overcome them🤩
First, let us discuss the challenges and then I will move towards the solution for you: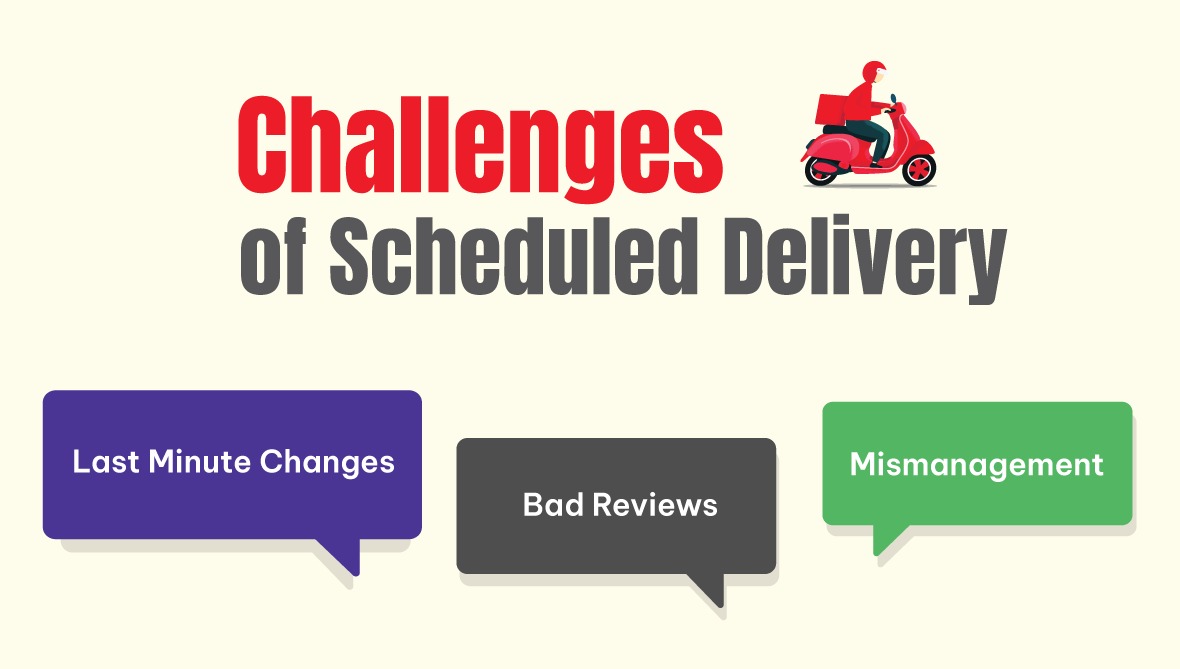 Struggling to Provide Scheduled Deliveries
Giving customers the control of choosing the delivery date and time is the biggest benefit and challenge of scheduled delivery date and time. It takes a lot of good management and planning skills. Plus, rescheduling or cancellations are the big hurdles awaiting. But no worries, here's a secret: you can have control on this🤫
Failing at Customer Expectations
Meeting customer expectations is a tough task but not impossible. When you let customers choose their date and time, they will expect you to deliver their orders on that date and time. And you need to fulfill the orders to satisfy the customers with quality and promised service. Here you can face challenges like, lack of raw material, absence of delivery person, sudden weather changes, etc.
Overcoming all of these challenges is a task because these factors are often out of your control. And if you fail to overcome all these challenges, then you will hurt the customer's expectations and will be left with bad reviews and loss of customers.
Last Minute Changes
Last minute changes have the power to ruin all the management and planning of your delivery chain. One last minute change can cost you a lot of money. For example: if a customer reschedules the delivery or cancels the order at the last moment when your delivery partner is already on their way to deliver the order, it will cost you double the amount for fuel and delivery person to deliver the order on the rescheduled time. Plus, if the order was something that can get damaged or needs to be prepared fresh like cakes or even some grocery items, you will also have to prepare or replace the items with fresh ones. This will lead to wastage of materials.
Don't worry I got one solution to overcome all the challenges. 🤩 Without a further ado, let us know the solution of the above mentioned challenges:
How Can You Streamline the Scheduled Delivery
Delivery plugin is the one in all solution for any of your scheduled delivery challenges. It might seem that your customers have all the control but actually you are the one controlling the delivery process. 😎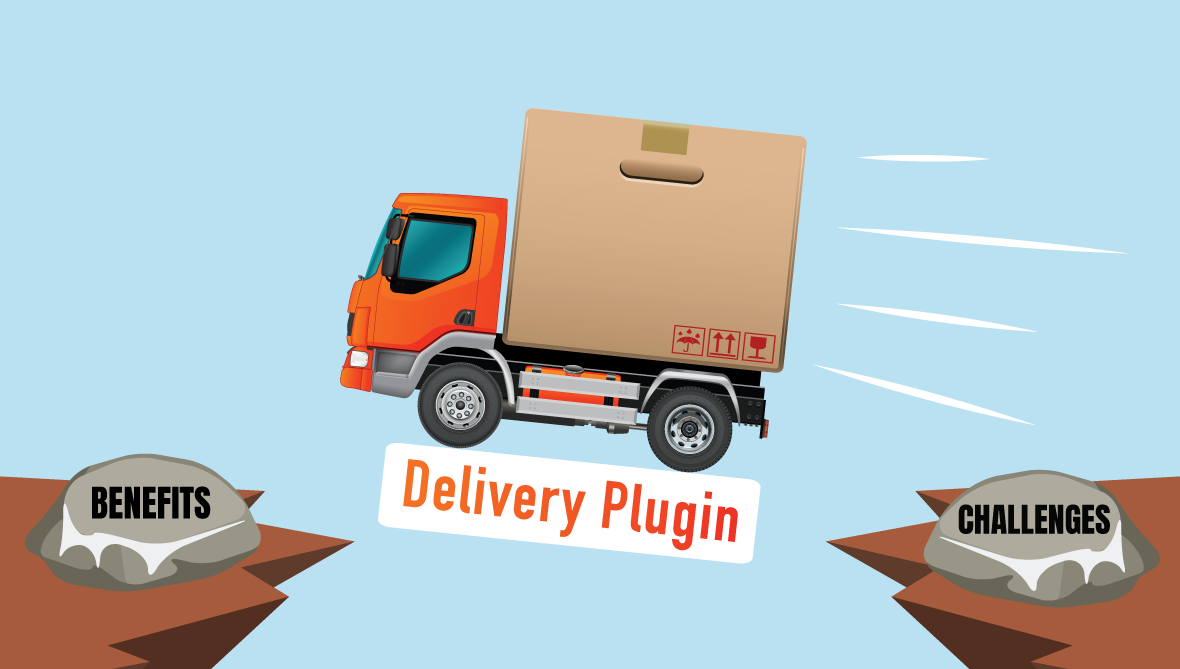 😕I know that sounds confusing, let's clear it out!
When you enable your customers to choose the date and time for delivery, you can show them the dates that are available with you. From those available dates, and times, let them schedule their delivery. But since you already have mentioned the dates of your convenience, you can schedule all the deliveries in bulk and save your cost and labor efforts.
For example: If your company has leaves on a few decided festivals or uncommon holiday days like any business days, suppose Tuesday, then you can block the date through Online Delivery Date Manager. This will ensure that your customers do not set those dates as their delivery dates. This will save you from a bad customer review and will provide transparency to customers.
So letting your customers choose their delivery date and time is not a challenge anymore, it's a luxury you are providing to customers without harming your schedules. That's how you can provide the best customer experience and not let your schedule affect even a bit. Once you get the delivery details from the customers, you can even optimize the routes to plan the best delivery routes without wasting fuel.
Benefits of Scheduled Delivery Software
Caters Convenience to Customers
Enhancing customer experience is the ultimate goal of any business. And when it comes to elevating customer experience, the two major areas to improve on are:
Simplifying user interface
Streamlining delivery process as per their convenience
For simplifying the user interface, you can check on smooth navigation, attractive themes, and relevant content.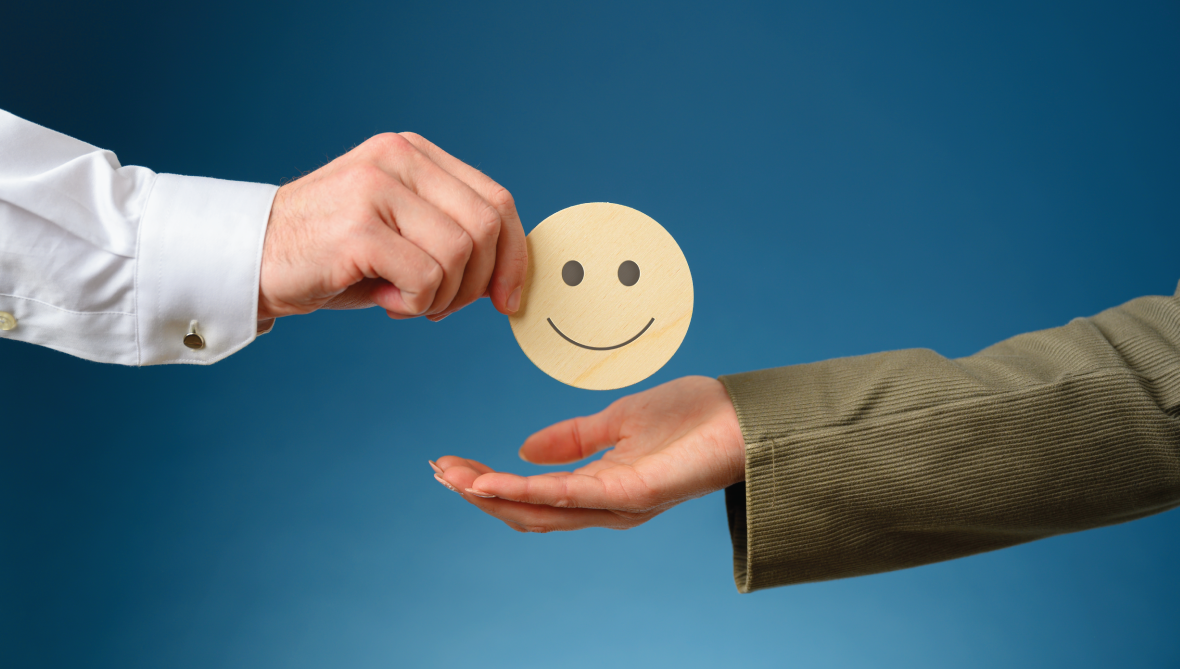 For giving the convenience and control of choosing the delivery date to the customer, you can use Order Delivery Date Manager. It is a plugin that lets your customer choose the delivery date and time. As mentioned above, these types of plugins are necessary for businesses to cater convenience to their customers.
This will enhance their experience in your store. You just need to ensure that you are delivering their orders on a selected date and time to convert them into your loyal customers.
Saves Cost of Repeat Deliveries
When you let your customers schedule their delivery, it is sure that they will be available at the entered address at the scheduled time, so you can save all the fuel and driver expenses that go for rescheduled delivery. It doesn't mean that you cannot provide the option of rescheduling or canceling their orders, but you can keep the process in your control.
For example: If your customer desires to change the delivery date or cancel the delivery due to some reason, then they can change the date before the time limit you have set. So, you can have the control of keeping the time limit (i.e., one day before, one week before, 2 hours before, etc.). This way you can offer them the convenience of rescheduling the delivery under your control. This way you can save fuel and labor charges that go wasted on the canceled or rescheduled delivery.
Gain Customers Trust
When your customers trust your brand, it is more likely that they will be your loyal or repetitive customers. They will even share the word of mouth with their network and get more traffic to your store. But all this requires trust, and building it is not a cakewalk. But with such a flexible and convenient delivery system and on time delivery, you can gain customers' trust easily. It will make them sure about the quality of your brand's services.
Deliver Gifts
This is one of the major benefits you can provide to your customers. Let us start with an example: What if your customer wants to order a cake from your store and wants it to be delivered exactly at 12AM as their friend's birthday? With estimated delivery, there can be chances that the order might arrive before time and ruin the surprise, or it may come after the birthday which may be not as valuable as it would be on the birthday.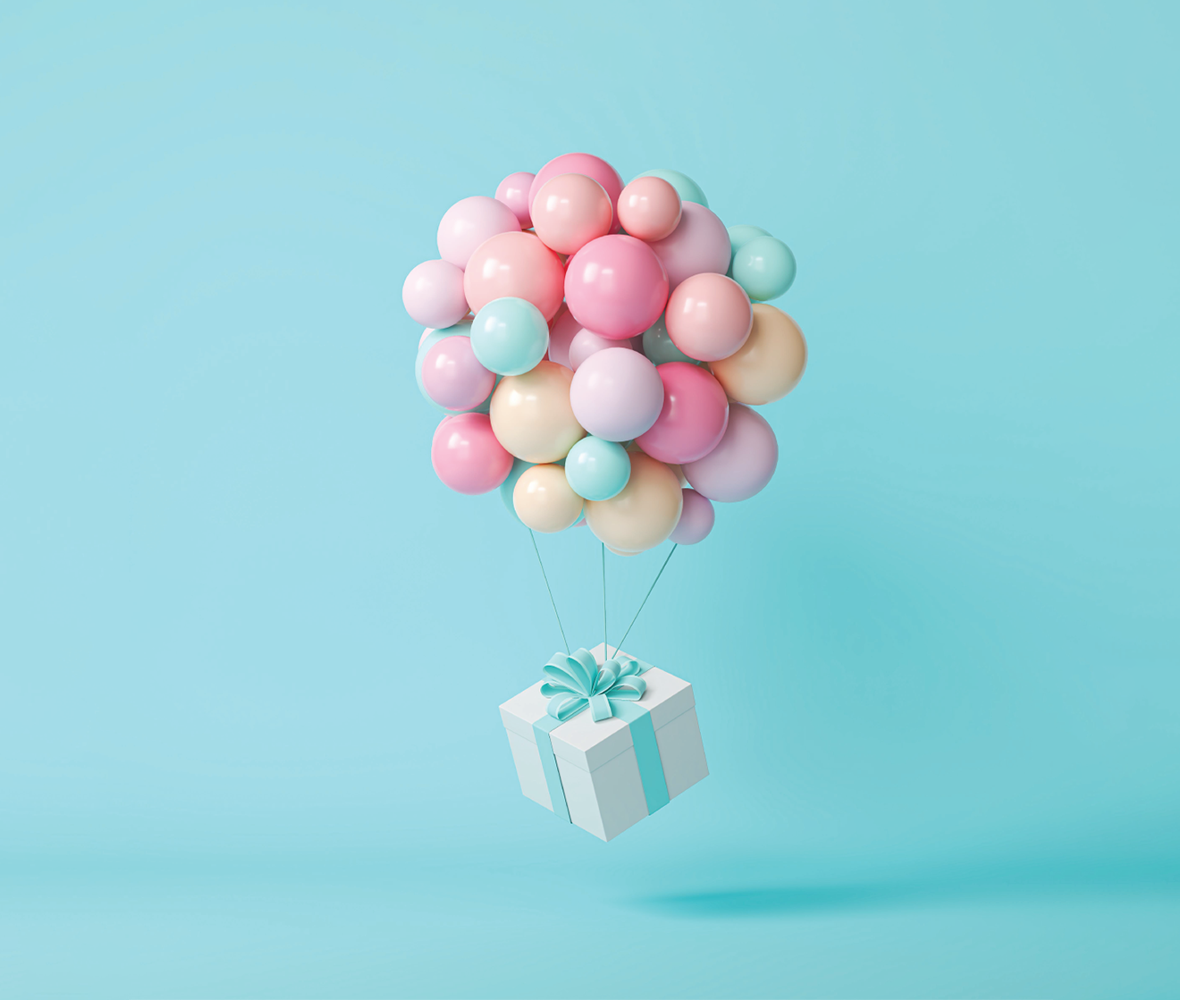 In both cases, your company is going to get bad reviews from customers. Thus, choosing a scheduled delivery date and time is the best option when it comes to delivering gifts. Many online retailers do not offer such gifting services, but you can. Be the Santa Claus of someone's Christmas and gain all the blessings!
You just need a schedule delivery plugin that can let customers select the date and time of their delivery from the available slots.
Minimizes the Need for Additional Administration
Constant back-and forth emails or calls can be frustrating for both your staff and customers. Whether it is rescheduling their delivery, canceling it, or even placing it, streamline everything through the plugin. The automated solution will save you labor cost and provide comfort to customers. Appreciation and sales will come if you ease the delivery part for customers.
Industries That Can Benefit From Scheduled Delivery
Ecommerce
Pharmaceutical
Fashion
Groceries
Customized gifts
Manufacturing
Food and Beverages
Medical
Logistics
Delivering Final Words
Schedule delivery is a sure-shot way to gain customer's trust and enhance their experience by providing them both convenience and control. You just need to ensure that the plugin you choose is compatible with your website or app.
For this you can try plugins that offer free trial for a month at least to monitor if it works for your business or not. AppJetty's Online Delivery Date Manager is a one stop solution for all your scheduled delivery problems. Its dynamic features and user-friendly interface make the investment worth it! The good customer reviews that it drives are cherry on the top. Plus, it is also offering one month free subscription of their Online Delivery Date Manager. You can use this plugin for one month and then take the final decision!

All product and company names are trademarks™, registered® or copyright© trademarks of their respective holders. Use of them does not imply any affiliation with or endorsement by them.