Last month, we wrote a blog about what we were expecting from the Odoo 13 when it launches at Odoo Experience. We were eagerly looking forward to the new features of Odoo 13. Finally, the day came. They launched Odoo 13 on 2nd October 2019 with some useful features. They've developed these new features to provide ease of use to the developers as well as users.
Without further ado, let's jump straight to the new features:
• Accounting:
Odoo has made accounting easy for its users. Accountants can now add invoices in bulk, close periodical tax with lock date, reconcile receivables as well as payables, and much more. These features are bound to save all the business owners' time and resources making it easier for them to understand their numbers.
• Field Service:
This application will help organizations that have on-field teams to schedule their tasks. Additionally, then you can set their schedules.
Team members on the field can track their daily tasks via the application. They can easily navigate to the location of their tasks, with the Google Maps integration.
Another neat feature this app has is timesheet. Your team can enable timer on reaching the client's place or starting a meeting. This will help them in the billing process at the end of the month. As an admin, you can shift the tasks from one employee to the other taking into consideration your employees' performance.
• Lead Generation:
Odoo 13 will help you with generating leads. Yes! You heard me right. They've upgraded their IAP module which now comes with improved location detection. You can also find leads by entering details like industry, country, size, technology, etc. in the CRM. With an added feature of lead scoring, you can estimate the probability of closing a lead. This will help you set targets for your team.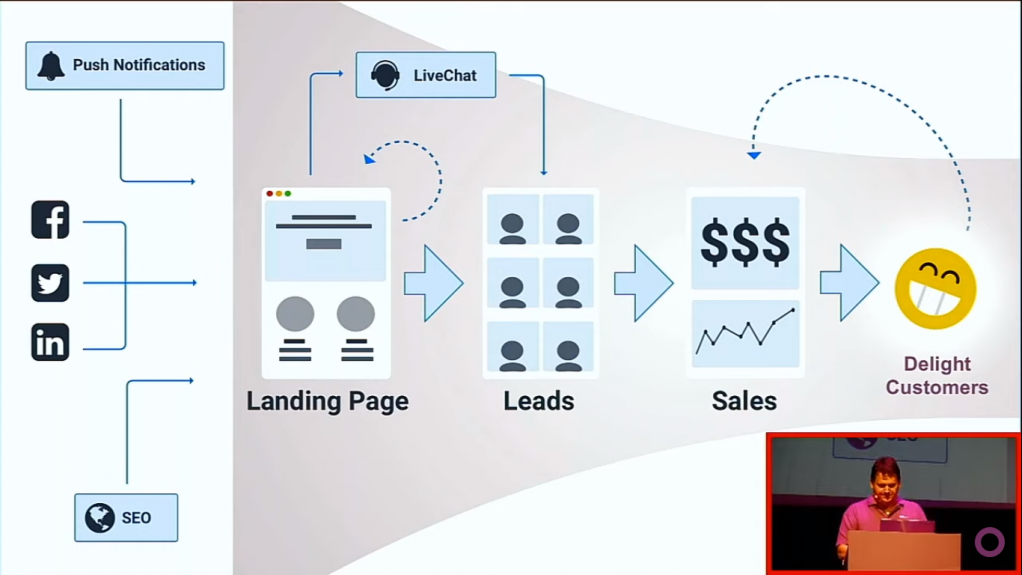 (Source: Odoo 13 Opening Keynote)
• Hiring:
Odoo 13 has built an application named Referrals, designed like a super hero game, to make the referring process fun and transparent for your employees. It will help your employees refer their friends for job opportunities in your company. The employee gets points and perks if the company hires the referred candidate. On top of this, there is also a recruitment app that tracks the whole process. This makes the onboarding of a new employee smoother. If this experience is smooth for an employee, it helps them transition into their new role easily and leaves a good first impression.
• Enhanced Marketing Experience:
Odoo 13 has enhanced the marketing experience of website owners. Your marketing team does not need to go to different social media platforms to post things. They can post as well as schedule posts with the Social Marketing feature.
Additionally, sending SMS to your customers has become easy as you can send it from the backend.
There's also a visitor tracking feature that lets you track your visitor's movement through the website. You'll know the web page your visitor is on and you'll be able to connect with them with push notifications or live chat. E.g.: if they are on the "Contact Us" page, you can start a chat with them.
• eLearning:
This module is open source. One can use it for publishing custom online courses. It also becomes easy to trace the success of your students. They can provide feedback on their learning experience using this module. On successful completion of the course, you can provide them with a certificate. Students can also collaborate with other students in forum section. This makes teaching and learning fun for everyone.
• Time Off:
"Time-Off" is the new name of "Leaves". You can use it to validate details of your employees' leaves. Managers can see how many people are on leave on a particular day so that they can divide and allocate work amongst team members.
Fun fact: Odoo 13 is now 5x faster.
We are hyped about all these new features of Odoo 13 and are looking forward to updating our themes and apps for the latest version.
These new features have made room for new opportunities. If you are looking to migrate your store from the older version to the latest version then you can get in touch with us from here.
All product and company names are trademarks™, registered® or copyright© trademarks of their respective holders. Use of them does not imply any affiliation with or endorsement by them.