One thing that's common among all the eCommerce stores is preparing for the festival season. From giants like Amazon, Walmart, and Etsy to small and mid-size retailers, everyone plans a marketing strategy to sell during the festival season.
Everyone does it every year because the old strategy may not work. And now, with pandemic and CX taking center stage, you need to revise your marketing strategy. The 2019 and 2020 plans might not be that effective. Keeping that sudden shift in the customer behavior and shopping trends, we have articulated this article. It will help you add life to your marketing strategies for the festival season.
Do you know the flip side? People think that the festival season is not an apt time to bring in new apps. But if you take a closer look, you will realize they play a major role in your festive sales success. Take an example of the Shopify Christmas Effect App. It helps you give off Christmas vibes, encouraging customers to buy more.
How to Increase Sales during this Festive Season?
1. Revamp your Store
The first thing you need to do is change your store look. Give your customers a warm welcome with festive vibes. Decorate your store as per the occasion with Shopify Festival App. Customize the animations for specific pages and schedule them for a particular time and date. Make your store more colorful and user-friendly with scroll to top. Announce sales and limited-time offers using the announcement bars and redirect customers to more purchases.
Here's how Big W, the Australian departmental store, decked up their website for Christmas.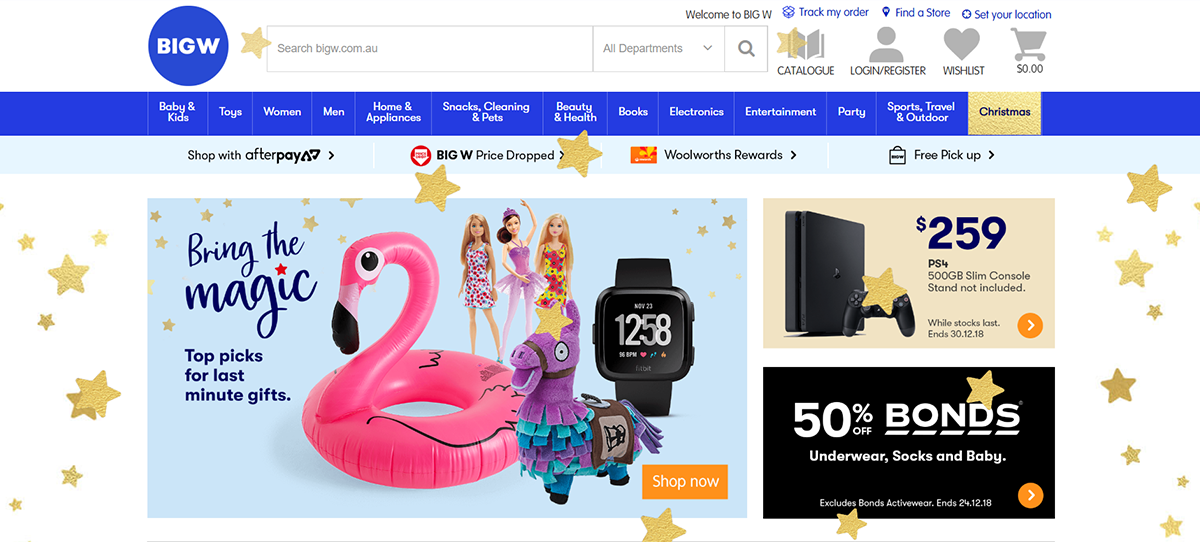 Source: seopressor
Don't forget to optimize your images and configure SEO alt tags. They help enhance buyers' shopping experience. If there are products that are currently unavailable or can't be purchased individually, hide them from search and avoid giving your customers false hope. Most importantly, let them checkout in their local currency. There's nothing more satisfying than knowing the product price in your native currency. You can integrate a currency converter app for that.
2. Expand your Product Catalogs and Offerings
As the festival season is near, the demand for specific products is going to surge. So, you need to make sure your store can cater to that demand. Shoppers are going to look for all types of products on sale. So, update your catalogs, create product combos and attract shoppers to buy more.
Take advantage of apps like Bulk Product Editor, Product Bundles, and Pre Order to increase sales and convert visitors into customers. Use the Shopify bulk product editor app to speed up the product edits and keep your product description up-to-date.
Product bundles will let you create custom combos and sell them at a discount. You can add a pre-order button to let shoppers order the currently unavailable products.
You can also create a whole new range of products, especially for festivals. However, don't just blindly add products to the catalog. Research the latest trends, shoppers' buying patterns, the most coveted and wishlisted items in the store and strategize accordingly. You can even partner with third-party sellers and offer more. For example, if you sell t-shirts, you can integrate a designer tool or tie-up with the print industry and provide customized Halloween t-shirts.
3. Create Hype Around Festive Sales
People are on impulse buying sprees during festive time, and you can easily interest them in the offerings by running sales, announcing it on time, and marketing it exclusively. You will have to constantly remind them of the sales and the offers and create a sense of urgency so that they are more interested in it.
With a countdown timer, you can create FOMO and display limited-time offers. These offers can be for products or shipping. During festivities, shipping and on-time delivery become paramount. You can use a countdown timer for deliveries like 'Delivery by Wednesday if purchased within 5 minutes.'
You can also send emails to customers who have abandoned their carts with a timer to show the time remaining for the launch of the festive sale and create urgency. Most importantly, keep reiterating that stocks and product offers are limited to establish scarcity and make shoppers buy more.
Here's an example of an email by Rayban promoting their Black Friday sale.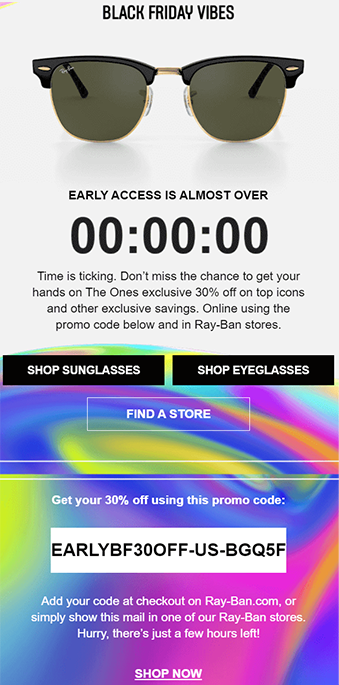 Source: Moosend
4. Set up Upsell and Cross-sell Opportunities
Though a sale is fascinating, it sometimes confuses buyers. They may not have a clear idea of what they should buy. Hence, do the heavy lifting and anticipate their preferences. Showcase some products they might be interested in. This means – includes sections like 'Frequently Bought Together', 'Customers who Bought This Also Bought', 'You May Also Like', etc., that lists irresistible products and lure visitors into a purchase.
Take advantage of Sticky Add to Cart and Quick Buy buttons to increase average order value and speed up the checkout. Create product bundles and cross-sell those. Offer combo sets, including most demanding and least demanding products. This way, you can make two hits – sell the least popular product and get more revenue.
Upsell and Cross-sell Strategies
You can refer to this article to know how this concept works and how to reap benefits from it.
5. Create a Retargeting Strategy
Even after putting everything in the store, expanding inventory, and running exclusive sales, people may abandon carts or visit the store and drop in between. They like to explore more deals and offers as most stores would be running festive sales. Therefore, you need a retargeting strategy to remind them about the products they left in the cart.
This is how TipsyElves will send an email to its cart abandoners.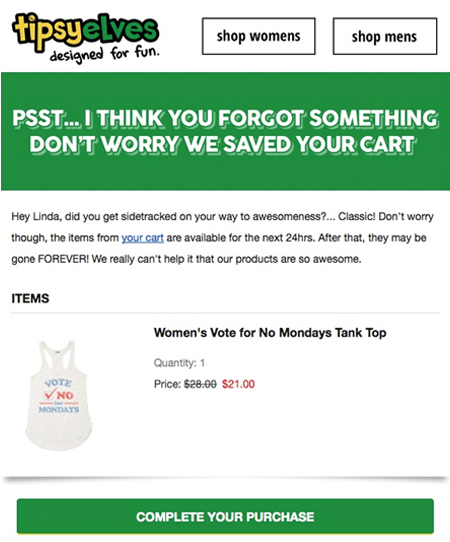 Source: coredna
You can retarget customers with push notifications, Facebook Messenger, SMS, emails, etc. However, the timing is here. If you send the abandoned cart email just when they leave, they will be annoyed. Also, don't wait for too long, they might forget about it.
Therefore, space them out and send the right messages through various channels for them to come back and make purchases.
6. Back-Up Your Store with Necessary Apps
Abandoned cart, volume discounts, product reviews, announcement bars, a countdown timer can do wonders! Hence, integrate all the required apps like Shopify Festive app, Quick Buy, Product Bundles, and more to improve customer experience, boost sales, and increase conversions.
While planning to capture leads, don't forget to enhance your security and prevent plagiarism. Bring in apps like geo redirection, block redirection, content protection, cookie bar, and best seller protection.
Summing Up
Preparing for the festive season is not difficult. Give off a festive vibe with the Shopify Festival app and focus on improving customer experience by integrating a bundle of Shopify apps such as CommerceXpand.
CommerceXpand is a one-stop replacement for all your standalone apps. It's a bundle of 28+ apps that helps you increase customer satisfaction with store management, sales, and marketing. The best thing about CommerceXpand is that it's free of cost! You can install and start preparing for your festive sale today.

All product and company names are trademarks™, registered® or copyright© trademarks of their respective holders. Use of them does not imply any affiliation with or endorsement by them.